April 11th, 2016 by evan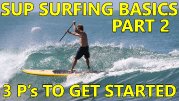 Welcome to another episode of Board Meeting. In this episode, Robert and I will continue with our discussion about the basics of SUP surfing or stand up paddle surfing.
For this part, we will talk about the top three things or the "3 P's" you need to get started with SUP surfing or stand up paddle surfing: Preparation, Practice, and Perseverance.



(click thumbnail to launch video)
Here is the link to Robert's "How to SUP videos" playlist that we mention in the video: https://www.youtube.com/playlist?list=PL0SxFTHHwMFWsJX1BxUvI5U1ajtlPz3ep
This show is presented by Evan from StandUpPaddleSurf.net and Robert from Blue Planet Surf Hawaii.
Related posts