June 7th, 2017 by evan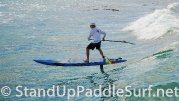 Here's the last part of our SUP Hydrofoiling episode. Robert and I continue our discussion about foiling and in this part we talk a bit about foil installation on SUP boards, suitable board lengths, rider weight, and more. Robert also gives his tips on learning how to SUP foil.

We hope you enjoyed our three-part episode on SUP Hydrofoiling. Aloha and see you on the water!


(click thumbnail to launch video)
This show is presented by Evan from StandUpPaddleSurf.net and Robert from Blue Planet Surf Hawaii.
Related posts