February 8th, 2016 by evan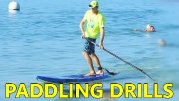 Welcome to another episode of Board Meeting. In this episode, Robert and I will talk about some tips and drills that you can practice in flat water to help you get ready for riding bumps or catching waves on a SUP stand up paddle board.



(click thumbnail to launch video)
You can check out Robert's blog post on SUP paddling drills here: http://blueplanetsurf.com/blogs/news/75266693-sup-tips-catching-waves-and-bumps-flatwater-drills-to-help-you-get-ready-for-open-ocean-stand-up-paddle-boarding.
This show is presented by Evan from StandUpPaddleSurf.net and Robert from Blue Planet Surf Hawaii.
Related posts