April 4th, 2017 by evan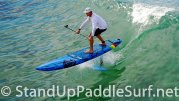 Welcome to another episode of Board Meeting. In this episode, Robert and I will discuss hydrofoiling on a stand up paddle board.

Hydrofoiling is fairly new for SUP paddlers and we will talk about the different aspects of this new sport. A lot of the top guys like Kai Lenny, Connor Baxter, and Zane Schweitzer make it look easy but as you'll learn, SUP foiling or hydrofoiling definitely has a learning curve.


(click thumbnail to launch video)
This show is presented by Evan from StandUpPaddleSurf.net and Robert from Blue Planet Surf Hawaii.
Related posts