March 28th, 2016 by evan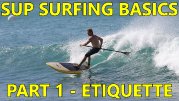 Welcome to another episode of Board Meeting. In this and the next two episodes, Robert and I will talk about the basics of SUP surfing or stand up paddle surfing.

For this part, we will discuss Surfing Etiquette. From surfinghandbook.com: Surfing Etiquette is the most important thing to learn before you set foot in the surf. These rules are not so much "rules" as they are a proper code of conduct designed to keep everyone in the water safe and happy.


(click thumbnail to launch video)
"Surf with Aloha."
This show is presented by Evan from StandUpPaddleSurf.net and Robert from Blue Planet Surf Hawaii.
Related posts