September 16th, 2014 by davi
This was sent to us via email by Karen Baxter.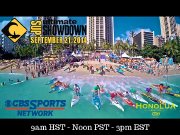 Aloha Family and Friends –
The Event Connor won in Waikiki in August is going to be televised. That's right. SUP IS GOING TO BE ON TV!!

Watch the Preview Attached!


(click thumbnail to launch video)
It will be aired on CBS Sports Network this Sunday 9/21 at 9 am HST, 12 pm PST, 3 pm EST.
Please watch – or record. It's important for the growth of the sport to support this televised episode! Thank you so much.
And – if you would please forward this email to all your friends and family you think would enjoy watching this feature on TV.
Have a great day!
Mahalo nui loa -
Karen
Related posts