May 5th, 2009 by evan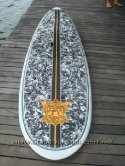 Here is my take on the Starboard 10' x 34″ stand up paddle board which I tried during my trip to Bangkok, Thailand at the Starboard headquarters.
I like those dual leash plugs because it makes it easy if you run a rope between them to have a handle to grab on to when you get pounded by waves. It also allows the leash to go side to side as needed.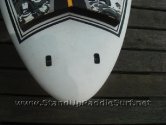 The leash plugs on the tail of the Starboard 10′ x 34″ sup board
Another thing that is interesting in this sup board are the two sets of mounts along the back part of the orange middle stringer made for an attachable wheel cart that Starboard has. You put these little mounts in there and you can slide the wheels on and turn the board upside down. Then carry it from the front like you would kayak with wheels.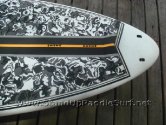 Two sets of mounts for Starboard's detachable wheel
This board has a rounded pintail, which makes it turn better and ride smoother. At 34" wide, anyone can stand and balance on it. A 260 lbs intermediate level rider should still be able to get on this board comfortably. Even beginners can ride this board. It would also be perfect for rental fleets or school usage.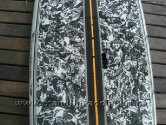 The handle is offset for comfort
I also find the carry handle very convenient, they may not be a brand new feature, but I like a board with a handle. Some people are scared that they might get a toe stuck in it. I also like the way it's off set to the side and it's not straight down the middle because that way, when you carry it you can extend your arm all the way down. You don't have to keep your elbow bent.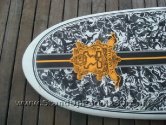 The full nose provides more stability
The full nose in the front part of the board creates more stability and paddle power. If you look at the tail where the fins are at, it thins out quickly.
This board is probably best suited for big people, beginners or even people who want to cruise. I got a chance to ride and paddle it around in flat water, in glassy water at the Cable Park in Bung Taco, Bangkok Thailand, but I have yet to try it in waves. I hope to do so soon.
Related posts