June 27th, 2009 by evan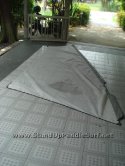 I took this video sometime last year when I went to visit Starboard in Bung Taco, Thailand. Svein Rasmussen, Starboard CEO, showed me this prototype wind sail.

Svein unrolled the SUP sail, which he said is to convert the 12'6" sup board into a windsurfer or a wavesailer. He said that they made this windsailer extremely light like 1½ kilo or 3.3 lbs., very durable and made use of natural materials. He also said that this is super light, has power and considered a basic sail, which was popular 30 years ago but is still the most common sail size used today by the windsurfers.
The size is 6.5 according to Svein, and you can do whatever you want with it, break the waves, it's also good for freestyle and other tricks, this sail delivers. Svein considers this as one of best sup sail they have designed.
Watch the video to see more of the Starboard 6.5 sup sail


(click thumbnail to launch video)
Related posts