June 30th, 2009 by evan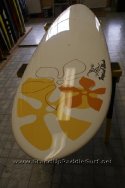 The story behind Tropical Blends' Wahine 10′6 x 30″ SUP board is one that every married man can relate to. Jim's (owner of Tropical Blends) wife and a few of her girlfriends told him they wanted a board that would be easy to handle, stable and an all around good board to paddle up and down Ala Moana Beach Park for exercise. Being a smart husband (and businessman), he created a SUP board made specifically for women. And since Jim is at his core a surfer, he made sure that the Wahine would perform in the surf if the women decided to venture past the reef. Here's a video of Jim explaining the Wahine SUP from the 2009 Tropical Blends line.

(click thumbnail to launch video)
Jim came up with a board that is easy for the women to handle. Even with the floral designs, SUP surfing husbands have also been known to sneak a ride or two. It's turned out to be the perfect board for couples where the gal wants her own board to paddle and the husband wants to try a smaller board in the surf.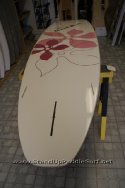 A 2+1 fin set-up
The Wahine 10′6″ SUP board squash tail
This board comes in two color schemes: one purple-pink and the other yellow-orange. The bottom contour follows the Tropical Blends standard with a more pronounced double barrel concave. It also has a squash tail, is set-up with a 2+1 configuration but can be paddled as a single fin.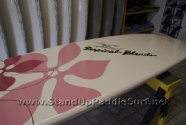 In purple-pink color combination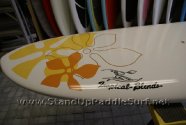 Wahine 10′6″ SUP board yellow-orange floral design
Jim knew he'd never live it down if he didn't create a SUP perfect for women. He made sure that it is easy to carry. Just use the included straps to connect your paddle to the board and use the paddle as a handle. It's light enough for most women to carry. It's stable, easy to paddle and surfs. We hear there are even smaller versions in the works. Check out the Wahine 10′6″ from Tropical Blends and tell Jim and Kumau StandUpPaddleSurf.net sent you.

Related posts