July 21st, 2009 by evan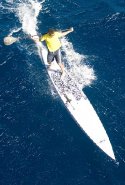 I took this video when I went to visit Mark Raaphorst at his Ding King compound at Sandwich Island Composites. This was from June when I went there for the Olukai Race. I got to see his workshop and the newest S.I.C. race SUP's, the F-16 v2 and the F-18. I asked him how to choose between the two.


(click thumbnail to launch video)

Mark showed me the differences among the boards and he talked about the full displacement hull on the F-18. There are no sharp edges on the bottom of the board. The F-18 has a canoe style nose and tail. It's designed to slice through the water and maintain an easier consistent glide. It's better in lighter winds and smaller swell.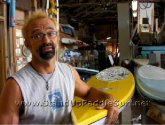 Mark Raaphorst and his F-18
This F-18 is 18'4" x 28″ and weighs about 31 lbs. It has a displacement type hull instead of a planing hull like the F-16 and F-14. Because of the canoe type nose, the F-18 is designed to cut through the water. I got a chance to ride an older model F-18 and loved it. I can't wait to get on this new one in Oahu waters.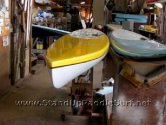 Sandwich Island Composites F-18 canoe type nose.
The F-18 has a pretty long flat area in the bottom for stability. The earlier model I tried was really stable.  In fact, my third downwinder on it I didn't fall once in the 8.5 miles.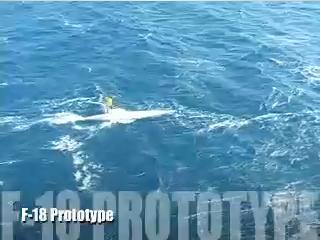 (click thumbnail to launch video)


(click thumbnail to launch video)
More info at the S.I.C. website.
The F-16 v2 is an upgrade to the first version. It's a tad bit lighter and there are changes to the nose and bottom. The bottom has a double concave with two flat panels on the sides, just like the F-14. The tail rocker was lowered a bit from the v1 and the round bottom in the nose was replaced and thinned and flattened out. The deck has a slight concave for comfort and it has the signature S.I.C. steering system.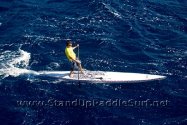 Alan Cadiz riding the F-18
The F-16 v2 is going to excel in higher winds and larger swell conditions. Both boards can carry riders over 220 lbs and both are light weight to carry and paddle.  Contact Mark with questions at www.paddlemaui.com.
Related posts