July 31st, 2009 by clarise
This article was originally published by the Honolulu Advertiser – http://www.honoluluadvertiser.com/article/20090731/SPORTS1001/907310338/14-year-old+from+Maui+makes+paddling+history#pluckcomments
by Dayton Morinaga, Advertiser Staff Writer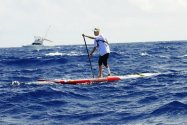 Connor Baxter, 14, became the youngest paddler to complete the 32-mile Rainbow Sandals Moloka'i to O'ahu Paddleboard Race. Photo courtesy of
Bernie Baker/ Special to The Advertiser
At 5 feet 6 and 106 pounds, Connor Baxter is a little below average size for a 14-year-old.
But when it comes to ocean sports, he is way above average.
Baxter, a sophomore-to-be at King Kekaulike High on Maui, already has an impressive list of accomplishments in ocean sports that includes national and world championships in windsurfing.
His latest feat may be his greatest.

Baxter completed the 32-mile Rainbow Sandals Moloka'i to O'ahu Paddleboard Race on Sunday, becoming the youngest competitor in history to cross the Kaiwi Channel as a solo paddler.
"I definitely feel a lot better now that it's out of the way," Baxter said. "Before the race, I kept thinking about how hard it was going to be, and if I could even do it."
Baxter entered the stand-up paddle (SUP) division. He completed the course in 6 hours, 55 minutes, 53 seconds, beating several more experienced competitors.
"Now that I've done it, I can focus on getting faster next year," he said.
The Rainbow Sandals Moloka'i to O'ahu Paddleboard Race is considered one of the most grueling ocean events in the world, and Baxter said: "It was a lot harder than I expected."
He said he got discouraged toward the end of the course, when the tide and wind started to work against him.
"There was one time when I felt like I wasn't moving at all for like 30 minutes," Baxter said. "When that happens to you at the end of the race, when you're all tired, your mind plays tricks on you."
He said it helped to have his parents, Keith and Karen, next to him on an escort boat. His mother provided constant encouragement, and his father periodically swam from the boat to give him drinks.
"It was just the most amazing thing to see him finish that race," Keith said. "I guess we got him started on loving the ocean. But he surprises us all the time."
Keith is an experienced waterman and former sailing champion. Karen is a former world champion in windsurfing.
Ekolu Kalama of Moloka'i won the SUP division, and was one of the first to greet Baxter at the finish line.
"Connor is beyond his years — he's a natural in the water," Kalama said. "He has things you cannot teach. He has that feel for the water."
In preparation for the race, Baxter said he trained almost every day with older paddlers, including Kalama. Baxter said he completed the 9-mile stretch from Maliko Gulch to Kahului Harbor several times a week.
"It's definitely good training with those guys because they're so much faster than me," he said. "They keep me going."
When not practicing SUP, Baxter is either surfing or windsurfing. He has already started tow-in surfing into wave-face heights as big as 20 feet.
Two days before the Moloka'i race, Baxter received a gash on his left calf after wiping out on the reef while surfing. It only added to his pain during the race, but was hardly enough to stop him.
"It got pretty swollen," he said. "But I don't think anything was going to stop me that day."
Kalama said: "Once Connor grows into his body, he'll be one of the top guys in the world."China's winners crowned at Waikiki
Stephen Katayama repeated as champion in the legends 60-older division of China Uemura's 25th Annual Longboard Surfing Classic.
The four-day contest was completed Sunday at Kuhio Beach, Waikiki.
The contest featured 16 divisions, ranging from 13-younger to 60-older.
More than 470 surfers competed, making it the most popular longboard surfing contest in the world.
Related posts