October 13th, 2009 by davi
Shawneen Schweitzer sent us this race recap of the 2009 Battle of the Paddle. Thanks Shaween!
Aloha;
Here is the report from the Battle of the Paddle. It was an incredible event, over three hundred competitors and lots of fun (and a bit of carnage). With what seemed like a thousand spectators on the beach, the SURF EXPO and the top SUP racers in the country here to compete in the 2009 Battle of the Paddle, you know it was a huge success.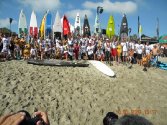 The competitors of the 2009 Battle of the Paddle at Doheney Beach in Dana Point, California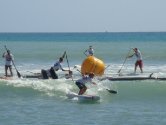 Battle of the Paddle 2009 – Zane rounding the mark and riding a wave into the beach.
Zane was honored to get an invitation to this event and was just as excited about racing in California at this premier event. The Battle is know for challenging the competitors and there was a lot of carnage out in the water as expected. Going in and out of the waves with boards without leashes is difficult but when boards shoot out from under the racers and knock off other competitors in front of them it is even harder. There was a lot of energy on the beach as the racers ran up the coast with each lap. Zane entered the race on a brand new Starboard Zysmanski board that he had never ridden before so he had the day before the race to train with his friend and Maui neighbor, Slater Trout. The board was awesome and he had a blast! All his paddling in the Holland Race proved to be great training. Slater Trout proved that he was a force to be reckoned with getting 2nd Place in the Elite Division behind Jamie Mitchell. He was the youngest competitor and the only teen to break the top twenty. So the Maui kids ruled.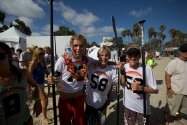 Slater Trout celebrating his second place finish with Maui friends and fellow teen SUP racers Zane Schweitzer and Connor Baxter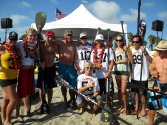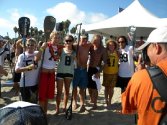 Zane's results were more than we could hope for and he is coming home with two more 1st place trophies!!!
Age Group Race: 1st overall Junior Division, 5th overall out of 300 competitors!
Distance Race 1st place in the 14 foot class, 2nd overall Junior division
SUP Relay 5th place TEAM
Elite Race: 42nd Place (He lost his board and had to swim in twice!!! He'll rip in this division next year.)
Thank you to Rainbow Sandals, Gerry Lopez and Barrett Tester for a great race.
Mahalo Nui Loa; the Schweitzer Ohana
You can check out Zane's blog too. Here's the link: http://blog.zaneschweitzer.com/2009/10/05/battle-of-the-paddle.aspx
Related posts