October 16th, 2009 by evan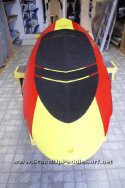 This is one of the new Tropical Blends SUP prototype boards. The Rawson Custom 10′ was shaped by Pat Rawson for Tropical Blends' custom line of SUP's.


(click thumbnail to launch video)
The Rawson 10′ is built in San Diego, using a vacuum bag process with 1.5 lbs. foam and measures 10′ x 30″ and 4′ thick. It's a super light board weighing roughly 17 lbs.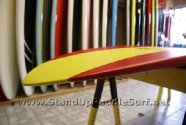 Rawson custom 10′ refined finish
Pat Rawson made a very refined finish of this board with round pin tail, nice rail and foil. A comfortable board with a five-fin set-up allows the rider to use a quad, single fin, twin with a trailer or a 2 + 1. Having five fin boxes, the rider has more alternatives.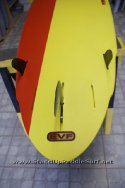 The 5-fin configuration on the Rawson custom 10′ sup board.
The Rawson bottom contour has a single concave going into a double barrel. Though not as pronounced as the other new boards. The concave gets more pronounced towards the back and ends with a v on the tail.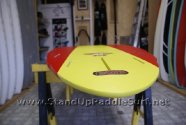 A single concave bottom contour for the Rawson 10′
Check it out at Tropical Blends Surf and tell them StandUpPaddleSurf.net sent you.
Related posts