August 1st, 2009 by clarise
From Starboard's winning team, waterkid Zane Schweitzer shares his Rainbow Sandals Molokai-Oahu Paddleboard race experience.
It was such a cool event too, there were over 135 teams and competitors. Next year you should try to come out for it, you would love it!!!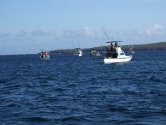 The start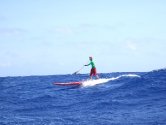 Zane catching a wind swell

There were a lot of firsts, and I think even a few records. A 12 year old kid named Riggs Napolean was the youngest competitor to compete in the race. Connor Baxter (14 years old), was the first kid to ever solo the event. He did great and of course got first place since there wasn't anyone else in his division crazy enough or strong enough in his age division to finish it! I was on a team with another 15 year old kid named Kody Kerbox (famous surfer Buzzy Kerbox's son) and we were the first TEEN team that ever completed the race. They didn't even have a division for us so we got 1st place in an honorary division the organizer made up called Under 29 team (because it is the combined total of the competitors ages) and the only division they had were Under 79 and up!!! Then the biggest news, was that Ekolu Kalama won first place in the over 30 Solo event, and came in in record breaking time!!!! And his wife Honora got 1st place for women's team, so husband and wife Starboard team got First Places. And my friend Talia who just started paddling for Starboard got 2nd place on their girls team.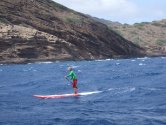 Zane's last leg before the grueling up wind finish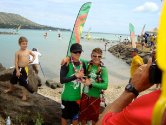 Team mates. Zane & Kody Kerbox. 1ST TEEN TEAM TO EVER COMPLETE THE RACE!!!!
Most of the competitors were on custom boards but our team used a production 14 foot Starboard Point to Point and we thought the board was fast and easy to handle. Ekolu Kalama had loaned it to us and we were really appreciative to him to. It was such an amazing race paddling along side all these incredible athletes that I have always looked up to. When I crossed the finish line I felt such a sense of pride and accomplishment knowing that I had just crossed the wild Kaiwi Channel on an SUP and went into the history books for doing it as the youngest team to complete the race. And one of my most inspirational moments came after I finished when a racer from Maui crossed the finish line after soloing the entire 32 mile race on a paddleboard with his prostetic arm retrofitted with a paddle on the end of it. I just watched all these people and realized we all felt the same sense of adventure and love of the ocean.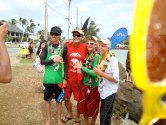 Maui boys rip! Kody, Buzzy, Zane, and Connor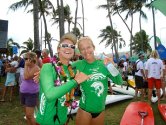 Another friend from Maui at the finish.
Anyway thanks for all the exposure. We all really appreciate it! I can't wait for the next race on Oahu at the Dukes Ocean Fest, and I am looking forward to going to Holland for the 5 day – 13 City SUP race in September.
Keep in touch & Mahalo;
Zane Schweitzer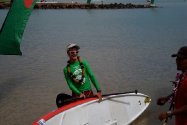 The finish 6 hours and 46 minutes later and still smiling.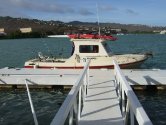 Matt's boat docked in Hawaii Kai after the race. He was the chase boat for Zane.
Land to finish line photos courtesy of Carolyn Jackson
Paddling photos courtesy of Matt Schweitzer
Related posts