August 28th, 2009 by clarise
HONOLULU, August 27, 2009 – Waikiki beachboy Alika Willis, 45, might not have made it to the final of the C4 Waterman Standup Beachboy contest, but anyone familiar with the company of C4 Waterman and the story behind Duke's OceanFest, knows that its spirit doesn't lie in competition. Duke's OceanFest is a celebration of the life of the greatest waterman who ever rode the waves – Duke Kahanamoku. C4 Waterman is a company founded on the principles that Duke stood for: a passion for riding the waves and a mission of sharing aloha with any person open to receiving it. Respecting that, the top honor of Waterman of the Event today went to Willis.
"This award goes to the surfer who best embodies the spirit of Duke and the heart of aloha, both on the beach and in the water," said C4 founder Brian Keaulana. "And that is Alika Willis."

Willis received a one-of-a-kind paddle trophy that was hand-painted by Hilton Alves with the image of Duke Kahanamoku on the beach at Waikiki.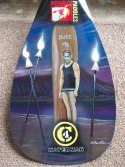 On the competition side, Nanakuli's Auwae brothers Kamu and Kekoa dominated the 30-minute final that was wave-starved in comparison to the earlier rounds of competition, with Kamu the winner. They reached the final, along with Kai Sallas (3rd, Honolulu), Kalani Vierra (4th, Kauai), Leleo Kinimaka (5th, Big Island), and Tony Moniz (6th, Honolulu) after qualifying through two rounds of competition that saw a total of 42 surfers take to the waves.
Surfers were given two opportunities to surf at Queens, with their top two rides from each of the rounds counting towards an accumulated total. Based upon those totals, the six surfers with the most points surfed off in a final.
The C4 Waterman Standup Beachboy event is a perfect fit for Duke's OceanFest, showcasing the fun tradition of standup paddle surfing that was pioneered here at Waikiki more than half a century ago. While its modern form offers a competitive platform with highly technical equipment, back in the day it was a rudimentary practice employed for practicality, combining the elements of paddling with a paddle, borrowed from outrigger canoeing, and standing up on a surfboard. This combination allowed Waikiki Beachboys to easily navigate the gentle Waikiki lineups, instructing tourists who were learning to ride the rollers, while keeping their cameras dry as they snapped off shots of those same beginners, providing them the opportunity to earn an extra dollar or two on the water.
Mahalo to Maui Jims, Blue Planet and Quiksilver for showing their respect for Duke and his message of aloha by getting behind this event.
For more information:
Jodi Wilmott, OCEAN PROMOTION
jodi@oceanPRhawaii.com
Cell: 808/258-8533
RESULTS:
Final:
Top 6 surfers after 2 rounds, based on accumulated scores of top 4 rides after 2 rounds, qualified for the final.
1st: Kamu Auwae (Nanakuli, HI)
2nd: Kekoa Auwae (Nanakuli, HI)
3rd: Kai Sallas (Honolulu, HI)
4th: Kalani Vierra (Kauai, HI)
5th: Leleo Kinimaka (Big Island, HI)
6th: Tony Moniz (Honolulu, HI)
SPECIAL WATERMAN AWARD: Alika Willis (HI)
TOP JUNIOR: Slater Trout (Maui)
TOP WOMAN: Jen Koki (Oahu)
Round 2:
H1: Slater Trout; Archie Kalepa; Duane DeSoto; Titus Kinimaka; Morgan Faulkner;
Nate Burgoyne
H2: Kamu Auwae; Kekoa Auwae; Zack Howard; Micah Liana; Robert Stehlik
H3: Alika Willis; Attilla Jobbagyi; Jen Koki; Kevin Williams; Conner Baxter; Sondra Purser
H4: Tony Moniz; Robin Johnston; Kody Kerbox; Noland Ginella; Candice Appleby;
Taylor Savage
H5: Ikaika Kalama; Brian Keaulana; Kaipo Guerrero; Cyril Huddy; Simon Dodd;
Lahiki Davis
H6: Kalani Vierra; Kala Alexander; Dino Miranda; Kolaiah Jardin; Noah Yap; Ben Purser
H7: Kai Sallas; Leleo Kinimaka; Chris Martin; Black Abraham; Sam Pai; Tiare Lawrence
For further information: jodi@oceanPRhawaii.com
Related posts