December 8th, 2009 by evan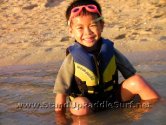 I decided to take my son at Ala Moana Beach Park to just paddle around and get outdoors because I was indoor most of the day getting work done. I need to get out as I was getting cramped up feeling indoors.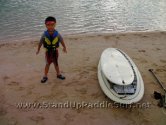 Buddy with our two boards: an 8'9" Joe Blair SUP board and on top is a small longboard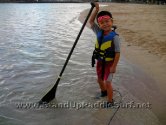 A C4 Waterman cut-down paddle for my Buddy

We paddled out in the reef with me on a Joe Blair 8'9" and Buddy on a little long board type. I cut-down a C4 Waterman paddle to suit his size so we could paddle together. While paddling, Buddy went to check out some fish unfortunately there's not a lot of fish out there at that time.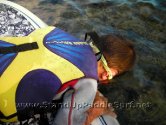 Checking out for some fish.
Buddy building his sand castle.

After a couple of paddling, Buddy was back in the shore and started making a sand castle. We stayed there for about an hour but it was fun. He is definitely getting better and stronger in the water.
Watch this video and enjoy the ride with my Buddy.


(click thumbnail to launch video)
Related posts