December 16th, 2009 by evan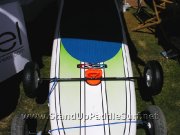 This is another interesting product I saw at the 2009 Battle of the Paddle, the StickyWheel Board Transportation Device. Here's a description from their website:

The StickyWheel is a two-wheel transportation device that easily sticks to the bottom of paddleboards and surfboards. It allows you to pull your equipment on a set of wheels so that the equipment does not drag on the ground and incur damages.

As you'll see in the video, the device is very easy to use and you can attach it to your stand up paddle board in a matter of seconds. Check it out:


(click thumbnail to launch video)
Related posts