September 3rd, 2010 by davi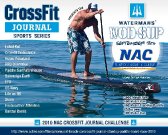 Training Mission for the Battle of the Paddle? Try on the upcoming "WATERMANS WOD-SUP"
The CrossFit Journal Sports Series: Standup Paddling on September 18th at the Newport Aquatic Center.


This is the first event of the CrossFit Journal Sports Series. Come out for a great time and hang with an awesome community and try something new.
Whether you are a seasoned CrossFitter looking to try a new sport or a veteran Stand Up Paddler willing to try something different this is going to be a challenging event for everyone involved.
The challenge, or WOD (Workout Of the Day), consists of the following:
One lap for time:
2000M Row (C2 Rowing machine)
400M Run
400M SUP (12′6)
25 Burpee (pushup jumping-jack combo)
400M Run
Competitors will be broken up into 20 person heats. The first heat starts at 10 AM sharp. Each competitor will receive lunch courtesy of Bonsai Bowl, event tee shirt and a goody bag from our sponsors.
Awards and prizes will go to the top Male and Female competitors. Divisions will be assigned based on pre-registration.
Post Event Party presented by Crossfit Endurance at the Paddle Surf Warehouse location in Costa Mesa. Party starts at 6 PM. Beer and BBQ, raffle and awards.
Fees: $35 Early Registration / $50 Day of Registration
All proceeds benefit the NAC Junior SUP Program
Registration closes Saturday, September 18, 2010 @ 11:59 PM
Registration caps at 200 Participants (10 waves of 20 competitors)
TO LEARN MORE WATCH THIS MOVIE:
http://media.crossfit.com/cf-video/CF_CFSportsSeries_PaddleboardEvent.mov
Waterman's WOD-SUP, The Cross Fit Journal
Sports Series: Stand-up Paddle
DATE: September 18, 2010
TIME: 9:00 A.M.
LOCATION: Newport Aquatice Center, 1 White Cliff Drive, Newport Beach California, 92660
Online Registration: Click here
Related posts