December 22nd, 2010 by davi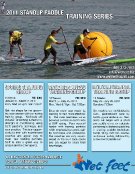 Starting in January 2011 Wet Feet will be offering several training clinics on Oahu for fitness and race preparation featuring the top SUP racers in Hawaii Morgan Hoesterey, Jared Vargas, Robert Stehlik, Jeff Chang and guest speakers:

Spring Training Group
January 8 – March 2
8 weeks, 3 one hour sessions per week on Monday, Wednesdays and Saturdays to prepare for the upcoming race season.
Workouts include:
Stretching and flexibility on land
Strength and Conditioning for SUP
Race practice and paddling technique

Race Season Readiness Training Group
March 5—May 25
12 weeks, 3 one hour sessions per week on Monday, Wednesdays and Saturdays to get into shape for the upcoming race season.
The training programs include weekly workout schedules provided via email in addition to the group training sessions.
Emphasis on speed, agility, technique, and endurance. Workouts get more difficult and longer each week, leading up to a taper for Battle of the Paddle Hawaii. The goal is to be race ready. The program will feature:
Speed: Pairing up with people of like speed to add friendly competition to the training program. Learn what it feels like to race instead of just paddle hard.
Strength and Flexibility: Dryland training to help strengthen muscles used in paddling and flexibility for warm up and recovery.
Agility: Board handling work including turns, bumps, waves, and crowds.
Technique: Paddling technique for efficiency, turning technique, footwork.
Endurance: Long weekend paddles for endurance.

Molokai Readiness Series
10 weeks from May 29—July 30 on Sundays 7:00AM
Short pre-paddle clinic on different subjects: paddle technique, bump riding, nutrition, course, navigation and ocean safety with different speakers for different subjects
Followed by a run of different lengths/times
Week 1: Hawaii Kai Run
Week 2: Hawaii Kai to Ala Moana
Week 3: Sandys to Kaimana
Week 4: Sandys to Ala Moana
Week 5: Sandys to Sand Island
Week 6: Hawaii Kai to Barbers Point
Week 7: Sandys to Ala Moana
Week 8: Sandys to Barbers Point
Week 9 and 10: Taper, Recovery and Strategy

Race Season plus Molokai Readiness Series
March 5—July 30 (22 weeks) Participate in both series.

Email info@wetfeet.biz or call 808-373-7873 for more information
Related posts