December 17th, 2010 by evan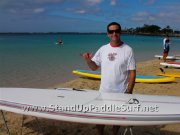 I was at the Blue Planet Surf SUP Clinic and Demo Day held last Nov. 6, 2010 and got the chance to meet Doug Hopkins, product manager for Aquaglide Paddlesurf / Amundson Stand Up Paddle Boards, and the designer himself, John Amundson. They brought along some of their boards and one of them was the Amundson 12′6″ which I had the chance to try out a while back. The Amundson 12′6″ comes in two models, the TR and the TR-X. They are almost the same except the TR-X has a layer of carbon making it about 4 lbs lighter than the TR.

Here's more info on the Amundson 12′6″ stand up paddle board from Doug Hopkins:


(click thumbnail to launch video)
And here's John Amundson giving us a detailed look at the design of the Amundson 12′6″ TR-X.


(click thumbnail to launch video)
Related posts