December 12th, 2010 by davi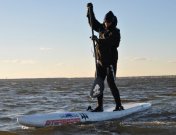 The Ice Man cometh….
By Mark Colino
If you live where temperatures go below freezing in the winter, you have 3 choices when it comes to flat water paddling; #1 Don't ( Not acceptable if you're truly hooked). #2 Buy a plane ticket to somewhere warm. #3 Dress appropriately and go!

Since #1 & #2 aren't in my current budget, I'll share some tips for #3.
Before getting dressed, put some high energy music on to get you psyched & elevate your heart rate.
Get dressed indoors! Don't wait until you are at your launch spot to get dressed. If you start warm it's easier to stay warm. If you start cold it's harder to get warmer.
Wear a wicking layer under your paddling pants or sleeveless longjohn (Starboard makes a nice one) & a tight fitting wicking layer under a looser paddling jacket. You will sweat no matter how cold it is. A full wetsuit is too restrictive for flat water training or touring where you're most likely are not going to fall in.
Wear 7mm booties & 6mm mitts. Your feet are farthest from your heart & not moving much, so get thick booties! Bring a water bottle with hot water in it and pour it down your boots right before you start. Gloves allow for better grip & switch on the paddle, but mitts are warmer since your fingers are all together. Come spring, when you take them off you will find you actually improved your efficiency!
Wear a moisture wicking beanie (Da Kine makes one). If you go heavy wool style, you're sweat will start to freeze on the hat. (not good)
Don't forget your hydration pack. Even in the cold your muscles need to be hydrated.
Don't paddle alone & wear a leash! In freezing temperatures, things can wrong real fast!
If you need motivation, imagine yourself beating an arch rival who is sitting at home getting slow & heavy. Or how fortunate you are to have the physical ability and means to be able to sup.
Remember, excuses don't excuse us! They accuse us. I'll see you out there.
Mark Colino is "Head" Coach of Stand Strong Paddle Fitness, a sales rep for Starboard SUP's & a Northeast mullet head. For more info go to standstrongpaddlefitness.webs.com
Related posts