February 15th, 2011 by davi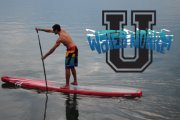 PRESS RELEASE
St. Petersburg, FL February 14, 2011 – School is now in session. Water Monkey, an exciting and innovative stand up paddle boarding company serving, has launched Water Monkey U. Courses offered through Water Monkey U are designed to help paddlers improve a wide range of their skills and technique. "Water Monkey U will be an opportunity for paddlers to get detailed professional instruction and critique in order to maximize their time on the water" says professional paddler and Water Monkey owner, Chase Kosterlitz.

From casual paddler, to hard-core racer, all stand up paddlers will benefit from attending Water Monkey U. During the Saturday courses offered from March to June, students of Water Monkey U will receive comprehensive professional instruction and video assisted stroke analysis. Combined, these tools will help improve all elements of the participant's paddle skills.
"I wanted to give people an opportunity to learn from my mistakes. There are so many small adjustments that paddlers can be taught that will have a profound impact on their overall paddling experience," says Chase. "The techniques learned at Water Monkey U will help paddlers prevent injury, get a better workout, paddle more efficiently, and paddle greater distances. The benefits are really endless."
Water Monkey U will be offering courses throughout the spring of 2011 with plans to offer destination sessions outside of the Tampa Bay by the end of the year.
The first Water Monkey U course will be offered from 10-12 a.m. on March 12, 2011. The course will take place on the Gulfport waterfront located at 5500 Shore Blvd. Each session is limited to ten paddlers in order to provide detailed instruction to each individual. The two-hour Water Monkey U course costs $100 per person. Boards are available to rent for an additional $25.
Scheduled dates and locations for Water Monkey U are: Saturday, March 12, Saturday, April 16, Saturday, May 8, and Saturday, June 25, all to take place at 5500 Shore Blvd in Gulfport.
Fanatic is the official board sponsor of Water Monkey U. All new 2011 Fanatic race boards will be available for use and demo during Water Monkey U courses.
You may register for Water Monkey U by visiting www.watermonkeyshop.com, calling Water Monkey at 727-481-3637, or emailing chase@watermonkeyshop.com.


(click thumbnail to launch video)

About Water Monkey
The vision of professionally sponsored stand up paddler, Chase Kosterlitz, Water Monkey was founded in 2009 to provide services in stand up paddle boarding and kiteboarding to the Clearwater, St. Pete, and Tampa Bay areas. After a collegiate basketball career, Chase became an avid boarder-dedicated to living and promoting an active lifestyle on the water. A Water Monkey is defined as one who lives this active lifestyle in and around the water; not defined by the style with which they participate, but by the passion they have for living a water life. Water Monkey offers introduction SUP lessons, eco-tours, stand up paddle fitness classes, and advanced instruction. For more information visit, www.watermonkeyshop.com or call 727-481-3637.
Related posts