October 8th, 2012 by robert

This coming Wednesday will be the first weekly time trial, brought to you by Blue Planet and Wet Feet.
Where: Meet at the Hawaii Kai Boat Club dock in front of The Shack in Hawaii Kai.
When: 5:00 pm this Wednesday, Oct. 10th and every Wednesday until further notice

What: We will start with signup, technique coaching, drills, warmup from 5:00 to 5:45. The time trial will start around 5:45 pm and follow a course of about 2.4 miles, see attached map. We will have a little social get together afterwards at the Shack. We will keep track of name, race number, board class (12′6, 14′, unlimited) and male/ female, no age groups. $1 for the most improved- winner take all kitty (starts with second time trial).
Why: To help you stay in shape during the off season and improve your performance. Comparing your times will allow you to see improvements and the effect of using different technique and gear. Times will be recorded and posted online after each time trial and we will have a spreadsheet that will make it easy to compare performance. We also hope to involve some of the younger paddlers and help them become competitive racers. Please join us!
Cost: $15 per time trial, multi race passes available. First one free.
Course map: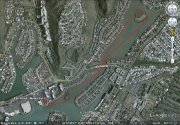 Related posts