October 6th, 2012 by davi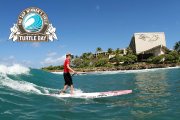 Like us on Facebook and get a chance to win complimentary ocean front deluxe accommodations for two nights at Turtle Bay Resort.

The winner will be chosen on December 15, 2012 and the offer will be valid until December 15, 2013. Room rate, tasks, and resort fee are complimentary. Putting beverages and incidentals are not included and will be the responsibility of the guests. The expiration date of the certificate may not be extended, and any unused portion cannot be redeemed for cash. The winner will be notified by email and will be mailed a certificate for the complimentary state.
Related posts