December 5th, 2011 by davi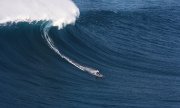 December 5, 2011 – WaveJet Brand Ambassador, Garrett McNamara, who recently achieved the feat of surfing a wave estimated at 90+ feet that has challenged the current world record, scored another first in the world of surfing. Garrett, while on location in Portugal caught and rode a huge rogue wave estimated at 45 feet on his WaveJet-powered 10′4″ gun.



(click thumbnail to launch video)
"The ride on this huge wave justified everything that WaveJet has sought to achieve with its awesome technology," commented McNamara. "The ability to track down and get into that wave with the WaveJet propulsion pod locked into my board, and utilize the power as I rode through the wave, was incredible. It was so amazing to kick out and not have to paddle to get out of harm's way and get right back to the peak to catch another wave. WaveJet is truly revolutionary to the sport of surfing, and this is just another example of the many positive impacts it's having."
WaveJet, founded by San Diego, California, surfer, Mike Railey, is the first patented Personal Water Propulsion (PWP) system designed for use in a range of personal watercraft, including surfboards, SUPs, kayaks, rescue boards, body boards, scuba gear and light boats. Railey's initial objective in developing WaveJet technology was borne out of a desire to create a product that would enable him to surf bigger waves without necessitating a tow-in. Powered by an integrated twin-lithium ion battery pack with twin jet drives, WaveJet is capable of 20 pounds of thrust with a continuous run-time of up to 40 minutes, and is controlled through a wireless wrist controller.
"We are really proud to have Garrett as our Global Brand Ambassador," said Railey. "He is constantly pushing the limits of what is possible in surfing, and we are thrilled that WaveJet could be right there helping him to achieve more firsts in the sport. With guys like Garrett McNamara and Cory Lopez on our team, the sky's the limit on what we are hoping to achieve. WaveJet is really about making your time in the water – whether you are a beginner or experienced surfer – even more fun. We're stoked to be part of Garrett's accomplishment."
Visit us at www.wavejet.com
Join us at www.facebook.com/WaveJet
Follow us on Twitter @WaveJet
About Garrett McNamara: www.garrettmcnamara.com
About Cory Lopez: www.LopezBrothers.com
Contact: Kelly Virgulto, WaveJet. Tel: 310.896.6049, kelly.virgulto@wavejet.com
Related posts