December 20th, 2011 by evan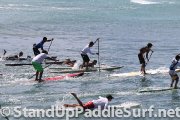 Here are some more pictures from the 2011 North Shore Challenge. These ones are from the distance race on day 2. The start was late and I was on a time schedule. The launch was from the Kawela Bay side of Turtle Bay and finish was at Haleiwa. Since the race started late, I had to leave before it finished.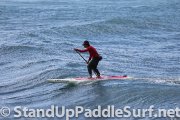 Kevin Seid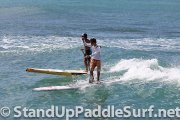 Noa Ginella and Kai Lenny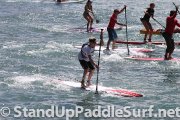 Connor Baxter sporting his low hand hold technique
The helicopter was pretty cool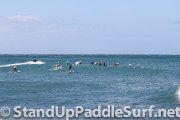 Round the buoy and bye bye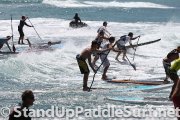 Robert Stehlik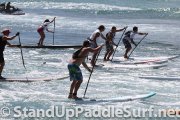 Ed Wheeler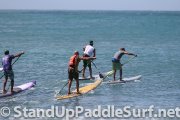 SIC's battling it out
I ended up going to Shark's Cove to see if I could get any pictures but unfortunately the racers were really far from shore. I could only see them through the zoom lens of my camera. Mark Raaphorst hurt his shoulder in the races the day before so he wasn't able to do the distance race. That was a smart decision since rotator cuff surgery #3 in 2 years would not be good.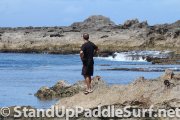 Mark Raaphorst looking from Shark's Cove
The racers were so far from shore that I couldn't make out who was in the lead. Was it Connor? I didn't remember him wearing all black and sporting a water backpack? Turns out it was Andrew Logreco in the lead and Livio Menelau in second.
Andrew Logreco is an animal. After one of the Hawaii Kai to Waikiki (10 miles or so) races, I saw him run back to his car…BAREFOOT. I even heard he ran the Honolulu Marathon barefoot but I'm not 100% sure.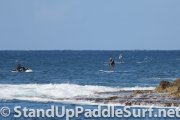 Andrew Logreco in black and Livio Menelau in green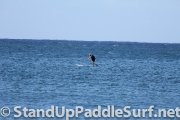 Andrew Logreco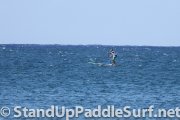 Livio Menelau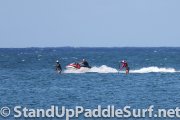 Some girls paddling
SUP Results:
SUP 12′6″
| | | | |
| --- | --- | --- | --- |
| | Place | Name | Total Time |
| | 1 | ANDREW LEGRECO | 41:15.2 |
| | 2 | KAI LENNY | 47:13.8 |
| | 3 | KAEO ABBY | 51:15.3 |
| | 4 | MO FREITAS | 52:58.4 |
| | 5 | NOA GINELLA | 54:01.4 |
| | 6 | SLATER TROUT | 56:53.2 |
| | 7 | CONNOR BAXTER | 01:48.7 |
| | 8 | NOLAND KEAULANA | 01:53.6 |
| | 9 | ZANE SCHWEITZER | 06:14.2 |
| | 10 | RIGGS NAPOLEON | 06:19.5 |
| | 11 | AMIE ARMSTRONG | 08:45.4 |
| | 12 | WARRICK GRAY | 10:18.1 |
| | 13 | KEVIN SEID | 12:09.6 |
| | 14 | RACHEL BRUNSCHT | 12:20.5 |
| | 15 | JEN LEE | 27:58.2 |
| | 16 | MARIO STRICLAND | 28:27.8 |
| | 17 | NICK MORAGIN | 30:14.0 |
| | 18 | JOHN REYNO | 43:08.6 |
| | 19 | NATALIA SMITH | 59:14.6 |
| | 20 | FUNG YOUNG | 09:40.0 |
SUP 14′
| | | | |
| --- | --- | --- | --- |
| | Place | Name | Total Time |
| | 1 | ROBERT TERIITEHAU | 49:12.6 |
| | 2 | JOEY NAPOLEON | 53:27.0 |
| | 3 | MICHI SCHWEIGER | 55:32.7 |
| | 4 | ROBERTO LOPES | 00:46.8 |
| | 5 | MATT SACK | 04:21.0 |
| | 6 | MANNY KULUKULUALANI | 04:45.9 |
| | 7 | ALIKA WILLIS | 06:35.4 |
| | 8 | EUGENE ANCHETA | 09:57.2 |
| | 9 | ANDERS JONSSON | 10:47.0 |
| | 10 | ED WHEELER | 11:13.3 |
| | 11 | CORY LARREU | 11:32.0 |
| | 12 | ROBERT PICAYO | 13:50.2 |
| | 13 | HAILIE HARRISON | 18:19.5 |
| | 14 | LAURA BIRSE | 20:51.8 |
| | 15 | HERBIE TITCOMB | 35:19.4 |
SUP Open
| | | | |
| --- | --- | --- | --- |
| | Place | Name | Total Time |
| | 1 | JERRY BESS | 39:48.8 |
| | 2 | BRENNAN SHEA | 41:41.5 |
| | 3 | LIVIO MENELAU | 41:47.0 |
| | 4 | ROBERT STEHLIK | 50:47.4 |
| | 5 | SCOTT MCPHAIL | 00:05.7 |
| | 6 | BLACK ABRAHAM | 02:46.4 |
| | 7 | JIMMY FITT | 02:59.5 |
| | 8 | JASON STEPHENS | 05:12.6 |
| | 9 | BRAD FELDMAN | 08:36.8 |
| | 10 | VICTOR LOZANO | 17:44.6 |
| | 11 | KEVIN PASCUA | 30:27.0 |
| | 12 | KATIE STEPHENS | 36:13.0 |
| | 13 | CAROLYN ANNERUD | 43:28.3 |
Related posts