February 5th, 2012 by davi

Connor Wins in Australia!!!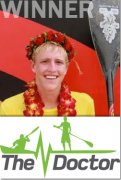 On my way to Australia for the notorious "The Doctor" event in Perth, I stopped off in Thailand. Traveling with Zane Schweitzer and Bart de Zwart – we went to Starboard Internationals Headquarters to test, shape and design some new wave boards. After 5 great days in Thailand – Bart and I headed to Australia.

Ian Grose, the Starboard distributor in Australia, picked us up at Perth Airport – and we went to his shop, picked up our 14′ Starboard Ace boards and went out for a paddle.
The event is called "The Doctor" – named after the wind that normally occurs in the summer months in Western Australia. It is a 27km (18 mile) long distance race from Rottnest Island to Sorrento Beach on the Perth Coast. It is the most prestigious and longest ocean race held in WA on the Australian Ocean Racing circuit.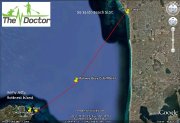 Unfortunately, the weather wasn't what the doctor ordered the day of the race. Normally a downwind race – this day was a crosswind.
The day started off with a 45-minute boat ride out to Rottnest Island. Once we got there, I prepared my 14′ Ace, putting in my new Rista Race Fin. Once my board was ready, I took it for a test run and then went to the beach to get ready for the start of the race.
It was light wind from the side, which made the race hot and grueling. Temperatures ranged between 35-40°C (95-104°F). And with the crosswinds, I probably paddled on my right side only 20 times, which made my left side super sore. It was one of the hardest races I have done in awhile.
Right when the race started, I open it up like always and pulled a little gap on the rest of the competitors. I got into the zone, put my head down and started to grind hard. For most of the race I was in front, but then a guy named Sam Parker from Australia caught up to me and we battled it out until 20 minutes from the finish. I knew I had to make a move; otherwise we would have to battle it up the beach. So I put my head down and pulled a gap on Sam and just tried to maintain my lead. I stayed in front until the end and ran up the beach in first place – finishing in 2 hours 46 minutes and 51 sec.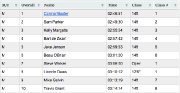 After a lot of water and rest, I went to the awards. They had the winners dress up in a Doctors Jacket – and the Trophy had a Stethoscope on it. It was good fun!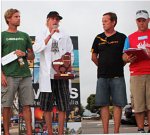 A big Mahalo to all the event organizers and volunteers at "The Doctor". Great Event – and Really well organized!!!
Look forward to doing it again next year and experiencing The Real Doctor Winds!!!
I want to thank my sponsors for all their support – Starboard, Maui Jim Sunglasses, Rainbow Sandals, Rista Fins, EFX Technology, Dakine, GoPro Cameras, On It Pro, Waterman's Sunscreen, Sunrite Maui, and Hi-Tech Sports.
Off now to go to Oahu and compete in the Sunset Pro – Stand Up World Tour event.
Aloha -
Connor Baxter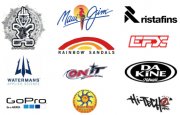 Related posts