February 5th, 2012 by davi

Sunday 5 February
The Sunset Beach Pro gets off to a great start at Turtle Bay
The first day of the Sunset Beach Pro presented by Malibu and Starboard and in association with Maui Jim saw a beautiful day here at Turtle Bay Resort.

It all started with an amazing Na Kama Youth Clinic, hosted by Founder and Champion Surfer, Duane DeSoto on the beautiful east side of Turtle Bay.
50 young kids from the area congregrated for an incredible ocean sports experience with amongst the World's best Stand Up Paddle surfers and Na Kama Kai Volunteers.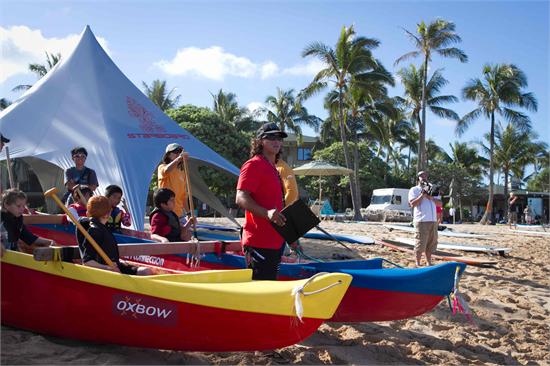 Na Kama Kai teaching stewardship of our precious Oceans
Na Kama Kai is a Hawaii non profit organization founded by Ocean Sports legend, Duane DeSoto, to provide unique experiences and opportunities for Hawaii's underprivileged youth , both in and around the ocean. With a mix of culture, environment and on the water sports, Na Kama Kai provides an incredible resource for Hawaii kids, something that the Stand Up World Tour strives to perpetuate wherever it goes. Check out the highlight video online now at www.standupworldtour.com
A big Mahalo to all the volunteers and of course our host, Turtle Bay for providing such a perfect setting for a beautiful morning in the ocean.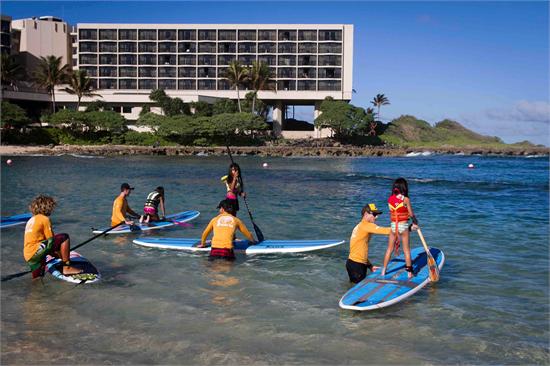 The Na Kama Kai Youth Challenge showcases youth talent
The Na Kama Kai Youth Challenge further perpetuates the vision of encouraging youth participation and excellence in the sport by celebrating the World's best U16 Stand Up Paddlesurfers in the now famous Na Kama Kai Youth Challenge.
In the unusually challenging conditions on the west side of Turtle Bay, some of the best U16 surfers from Hawaii, the US mainland, Europe and Brazil went out to do battle and showcase just how far the youth has come in the sport of Stand Up Paddling, and illustrate the real future that lies ahead of us.
With previous Na Kama Kai Champions Bernd Roedigger (Sunset '11), Benoit Carpentier (France '11), Mo Freitas (California '11) and Riggs Napoleon (Hawaii Island '11) met by other stand outs such as Noah Yap from Maui, Yuri Daberkow from Brazil and Uluboi Napeahi from the Big Island, the action was always going to be impressive.
In the end, far from home, it was the Frenchman Benoit Carpentier who rose to the top, just edging ahead of Bernd Roedigger from Maui, Mo Freitas from Oahu and Noah Yap from Maui. Benoit receives his very own Go Pro Camera, and a chance to put together content throughout the year for a Final Go Pro contest to be announced shortly at www.standupworldtour.com. Go Pro is the Official Sports Camera of the Stand Up World Tour.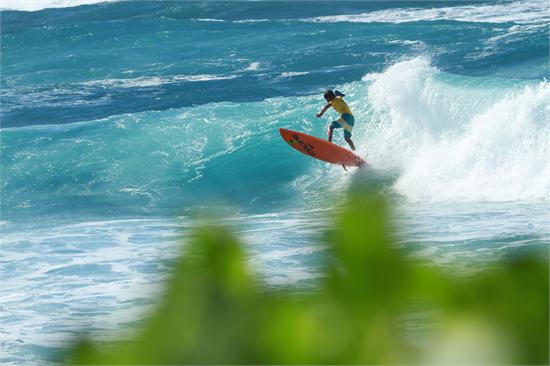 Wahine Showdown provides a impressive display of talent
As we have seen across the board, women have taken to the sport of stand up paddling more than any other ocean sport, and in the surfing realm, the talent is really starting to shine, leading to this first official women's event here at the 2012 Sunset Beach Pro.
From as young as 13 years old, the women were ripping in the difficult conditions, navigating their way through the rounds to determine a worthy final 4.
The Final was a fiercely contested affair, with all 4 girls putting on an impressive show of talent and determination off the point at Turtle Bay. In the end, it was to be the winner of the Brazil exhibition event from 2011 that ended up victorious, Nicole Pacelli, with an impressive display of performance riding. Coming in second was young Vanina Walsh, who's power to weight / size ratio is just unbelievable, as she wowed the judges with some impressive surfing. In 3rd, Jenny Kalmbach proved that she is certainly not one dimensional and can excel in the surf as well as in racing. Likewise, Mariko Strickland from Kauai dug deep to finish in 4th, wrapping a great first event for the women at Turtle Bay.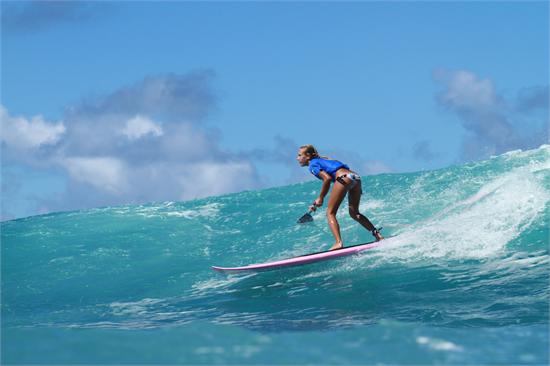 Stand Up World Tour Expression Session erupts in applause poolside at Turtle Bay
In a final event for the day at Turtle Bay, some of the world's best hit the water to provide a taste of what is to come here at the Sunset Beach Pro, in an audience judged expression session.
From World Tour regulars such as Sean Poynter, Zane Schweitzer and Aaron Napoleon to young guns Riggs Napoleon, Daniel Hughes and Matt Becker, the athletes put their best foot forward to showcase some of the most impressive and progressive surfing imaginable in the mixed up conditions on offer at Turtle Bay.
On the beach afterwards it was up to the assembled crowds to determine who would be crowned Champion, and following dramatic applause, it was deemed that young hot shot Riggs Napoloen should be crowned Turtle Bay Expression Session Champion for 2012.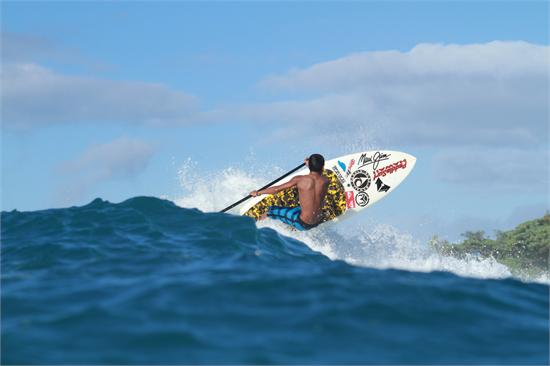 Press Conference and awards at Surfer the Bar, Turtle Bay
After a full day of action, everyone headed to Surfer the Bar for a Malibu Cocktail, press conference and awards ceremony for both 2011 and the day's events.
With a selection of the world's best athletes in the hot seat, insight was provided regarding each athlete's quest for the top spot and what we can expect at the 2012 Sunset Beach Pro.
One thing is clear, the talent level has shot through the roof and we can expect great thins at this year's Sunset Beach Pro, presented by Malibu and Starboard and in association with Maui Jim.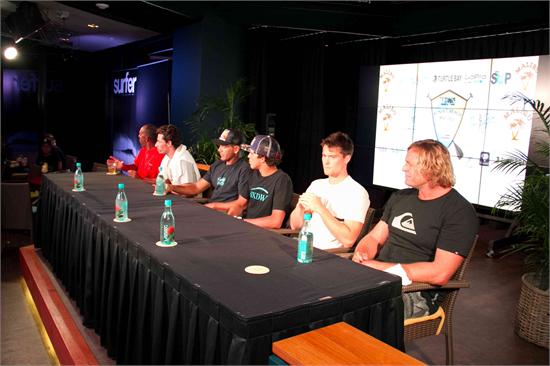 A perpetual World Championship trophy is presented
Hawaiian Culture advisor and teacher, Tom 'Pohaku' Stone presented the new perpetual award for the World Championship Title on the Stand Up World Tour moving forward. One of the very few and original Aliaia boards built from Ulu wood (breadfruit tree), this treasured peice of wood will remain on display at Turtle Bay Resort for perpetuity, with name of each year's World Champion to be engraved into this work of art.
With 2 World Titles under his belt, young Kai Lenny will be looking to retain naming rights to this trophy in 2012 as the only name currently to be on the trophy!
A big Mahalo to Pohaku for his contribution to Stand Up World Tour history and prestige.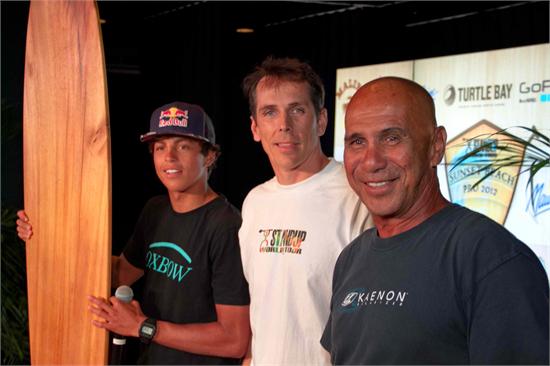 Stay tuned to www.standupworldtour.com for highlights
Online now you will find highlights, updates and official event draws will follow this afternoon. So go to www.standupworldtour.com to check it all out.
We will also have a contest for you to win a trip to stay at Turtle Bay Resort and witness the wonders of Oahu's North Shore for yourself, so keep an eye on www.standupworldtour.com for details.
We have called a lay day for Sunday 5th December, but are on hold until 7am on Monday 6th, when a new swell and with luck, more favorable winds will provide contestable conditions at Sunset Beach.
One thing is for sure – we have back to back giant swells ahead of us, so the action will be mind-blowing and the rivalry intense as we come down to the wire at the prestigious Opener for the 2012 Stand Up World Tour season: the Sunset Beach Pro, presented by Malibu and Starboard and in association with Maui Jim.
Next up, the Da Hui Trials, brought to you by Mobi Pcs.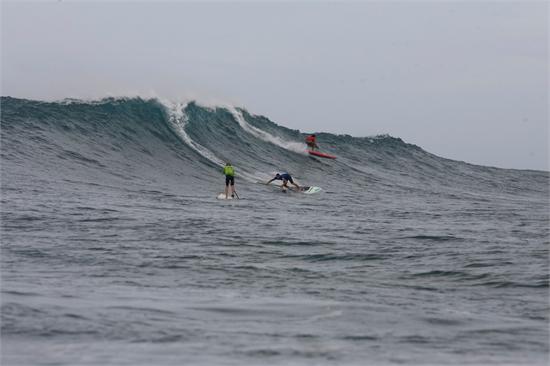 A big Mahalo to our sponsors and World Tour Patrons
A big Mahalo goes out to all our sponsors of this incredible event, but also our World Tour Gold Patrons: Starboard, Naish, Rogue, Coreban, JP Australia, Mistral, Imagine, and of course our regular patrons, Art in Surf and Fanatic.

Related posts