February 28th, 2012 by davi

C4 Waterman: A Rising Brand In The Land Of The Rising Sun

C4 Waterman, Inc. Co-Founder Brain Keaulana throws a shaka at the Tokyo Interstyle Show in February 2012. Photo/C4 Waterman
Honolulu- February 28, 2012 – C4 Waterman consolidated a growing presence in Japan this February with the launch of its new and expanded line of stand-up paddle-sports and rescue equipment at the Interstyle Show in Tokyo, Japan.

Taking the helm of C4 Japan is Toshiya Omi, one of the most prominent figures in the Japanese surfing world. Omi is the President of his own Outdoor Accessories Company and the President of the Association of Surfing Professionals (A.S.P.) Japan, and has strong ties with Hawaii, especially in Makaha, where he is known as "Omi-san" and has been a beloved member of the Keaulana extended family for decades.
"A lot of people remember that modern stand-up surfing came of age at Makaha," said Omi, "with the very first SUP contest 8 years ago at Uncle Buffalo's Big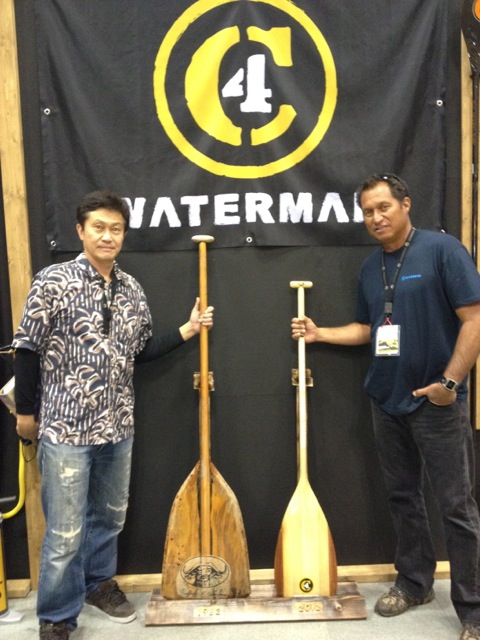 Board Classic, but they have no idea that only a few months later Brian introduced stand-up surfing here in Japan at Kugenuma with an SUP division in the Real B Voice Buffalo Surfing Classic Japan. Before that I think I was the first person to do SUP in Japan."
Makaha stand-up surfing pioneer and co-founder of C4 Waterman Brian Keaulana has traveled to Japan more times than he has been to the mainland USA. He has a deep understanding of the Japanese culture and surf scene. "Omi is like my Japanese brother," said Keaulana. "In Japan you have to walk the walk and talk the talk, and Omi knows this better than anyone. Like us Hawaiians, the Japanese have a deep reverence for tradition and their culture, so they really understand the core values that C4 stands for."
Omi agrees and nominates his close ties with Brian and his family as vital to his enthusiasm about C4 Waterman's growth in Japan. "Brian and I have been friends for over 30 years and have shared many adventures together. The launch of C4 Japan gives me the opportunity to join the resources of my present distribution company, Kokunai Tsushima Co, with that of C4 Waterman. I plan to use my knowledge of Japanese business culture with my experience in surfing, rescue, and outdoor sports to build C4 into a strong brand nationwide."
The alliance of Brian Keaulana's authenticity and Hawaiian roots, and Toshiya Omi's prestige and ability, made the C4 Waterman Japan booth a very busy place at the trade show. C4 co-founder and CEO Todd Bradley claims he hasn't seen that kind of excitement in the market since C4's launch as the world's very first stand-alone SUP company at the Action Sports Retailer Show back in January 2007. "We are blessed to be involved with a pro like Omi. It was so amazing to watch him take the C4 product line and just run with it," said Bradley. "In a really short time he has put together a solid business base for C4 in all aspects of what we represent not only as a business but as a culture. He's ready to build up the C4 brand to its full potential here in Japan, not only in the surf segment but also in the outdoor recreation and professional rescue market, too."
The close ties between Hawaii and Japan lead Omi to believe that the C4 Waterman ethos will thrive in his country. "I was overwhelmed with the success of the C4 Japan launch at the Interstyle Show." said Omi. "To have both Brian Keaulana and Todd Bradley here really helped validate the strength that the C4 brand has created worldwide."
For more information about C4 Waterman Japan contact Toshiya Omi at: info@C4waterman.com.
Related posts