March 13th, 2012 by davi

Prize Money up for grabs in the
Surftech Surf & Sand Duel-athlon SUP Race
Powerful swell on tap for Surftech Shootout and Surf & Sand Duel-athlon
Santa Cruz, California – (March 13, 2012) The 2nd Annual Surftech Surf & Sand Duel-athlon SUP Race presented by SUP Magazine will now offer a $1,000 prize purse to the top three finishers in the Men's and Women's "True Grit" divisions! "The new prize purse will give the athletes a little added incentive to brave the elements and do battle for the Surf & Sand Duel-athlon title and provide a little extra cha-ching to help cover their travel expenses," said race director, Duke Brouwer.

Surftech is proud to welcome back SUP Magazine as presenting sponsor for this year's event!
"The Surftech Shootout is an incredible event in one of California's best paddling towns. Between the surf contest at Steamer Lane and the race near the Wharf, the Shootout weaves together the unparalleled history of ocean athletics in Santa Cruz. SUP magazine is proud to be a part of this core event. To say the least," commented Joe Carberry, SUP Mag Editor.
Saturday's event may look very similar to the 2011 race. With solid surf in the forecast, Elite competitors can expect significant shore break and consistent swell throughout the 6-mile race. Add to that moderate winds and rain and you've got the makings of yet another epic Surftech SUP Race that stands to test the endurance, determination and heart of every competitor who is up for the challenge on Saturday.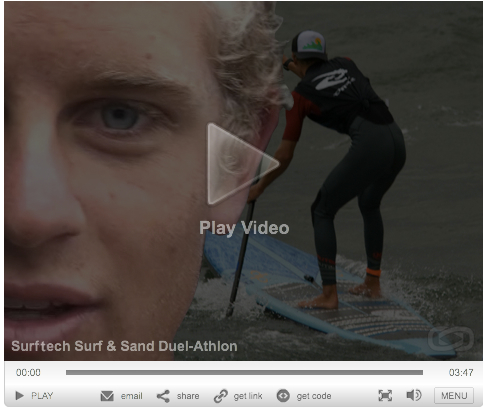 Matt Becker, 2011 Surftech Surf & Sand Duel-athlon champion, had this to say about last year's event. "It was gnarly, you're dodg­ing seals and [deal­ing with] five foot wind bumps… it was great when you were com­ing in and going down­wind but once you turned around it was 25 mph of wind and nature work­ing against you."
For those hearty athletes who thrive on pushing their minds and bodies to the edge, there is still time to register for the Surftech Surf & Sand Duel-athlon SUP Race presented by SUP Magazine!
Click HERE to register for one of the wettest and wildest SUP races of the season!
EVENT SCHEDULE:
Thursday 5-7pm Opening Ceremonies, Adventure Sports Unlimited, BBQ, beer & live music
Thursday 6-7:30pm Candice Appleby and Anthony Vela Q&A at Covewater Stand Up Paddle shop
Friday 7am – 5pm Shootout Round 1
Friday 6-10pm Competitors Party, Pono Hawaiian Grill, Hawaiian music with Ben Kaili
Saturday 9am Surf & Sand Duel-athlon race start
Saturday 7am – 5pm Shootout 2nd Round
Saturday 6-10pm St. Patty's Day After Party & Race Awards!!, Coconut Grove
Sunday 8am – 3pm Shootout Final Rounds
Sunday 4pm Shootout Awards Ceremony

For more info contact: Duke Brouwer
Related posts