March 15th, 2012 by davi
Connor Wins in Mexico!!!

3rd Annual Punta Sayulita Classic
This was my first trip to Mexico – and what a great event site. It took place in Sayulita, Mexico. I flew with Riggs, Aaron and Tasha Napoleon from Hawaii – and we meet up with Zane and Matty Schweitzer in LA. Then we all flew down to Puerto Vallarta. When we arrived we were picked up at the airport – and got the VIP Treatment from the event organizers.

Our first day we were there, before the event, we got super fun waves. But then for the surf contest the waves got smaller – but still fun! The surfing contest was the first event held. When it was my heat – the waves seemed to subside even more. I managed to get a few okay ones, but unfortunately didn't advance.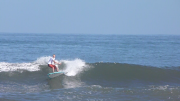 But later that day I competed in the Elite Race, which was a 5-mile race in and out of the surf, which was really exciting. The race started at 12:00 and I was ready to go. I was using my Starboard 12′6″ BOP Board. I lined up on the beach and once the horn blew I ran to the water as fast as I could. Once I hit the water, I was right with Kai going into the first buoy. We stayed together for a little bit, but then Zane and I caught a wave from way outside and Kai didn't catch it. So, Zane and I managed to get a good size gap on the rest of the racers. Then going into the third lap I knew that I had to get a gap on Zane. So I put my head down, paddled hard and got a little in front, which allowed me to catch the wave in front of him. For the last lap I was paddling as hard as I could to make sure I stayed in front. And once I went in and out of the surf a few times around all the buoys I was able to come into the beach in first. I was super stoked on the win and now I was getting ready for the distance race, which was the next day.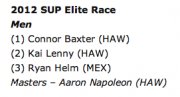 The long distance race was only 10k, but it was straight into the wind on the way out, which made it brutal. Heading upwind it was Kai Lenny, Ryan Helm from Mexico and me all together. We were all paddling our hardest, pushing ourselves to the max. Ryan and I managed to get away from Kai and put a gap on him. We got to the halfway mark, turned around and headed back to the finish line.
On the way back there were little bumps that I caught, which allowed me to make a gap between Ryan and me. I put my head down and tried to catch as many glides as possible and headed straight for the finish line. Coming into the finish line everyone was cheering me on, which made me paddle harder. Got to the beach in first place.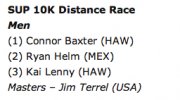 All together this was a super fun event and I can't wait to go back next year.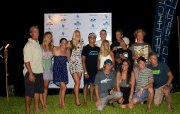 A big Mahalo to all the event organizers and volunteers. Great Event – and Really well organized!!!
Look forward to doing it again next year!!!
I want to thank my sponsors for all their support – Starboard, Maui Jim Sunglasses, Rainbow Sandals, Rista Fins, EFX Technology, Dakine, GoPro Cameras, On It Pro, Waterman's Sunscreen, Sunrite Maui, and Hi-Tech Sports.
Aloha -
Connor Baxter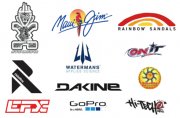 Related posts