August 27th, 2012 by evan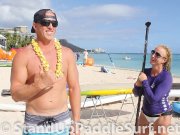 Both Ed Wheeler and I love our SIC Bullet 12′6″ boards because it's one of the few 12′6″ boards that can handle our weight. Ed got his a little after I got mine and I've seen him paddling it for south shore downwinders, north shore races and surfing. Ed's a big guy so it's something to see him surfing a 12′6″ race board. Our boards are virtually the same except Ed's is an inch or so wider and mine has a steering rudder.
Hear his impressions on his custom S.I.C. Bullet 12′6″ SUP race board.


(click thumbnail to launch video)
Here's another video with Ed on his custom Bullet 12′6″ and fellow SUP racer Kaeo Abbey on another Bullet 12′6″ in flatwater conditions.


(click thumbnail to launch video)
Related posts