September 26th, 2012 by evan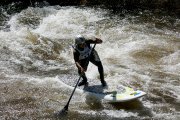 Here is an interview with C4 Ambassador and river SUP pioneer Charlie MacArthur. Charlie is regarded as C4's "Mauka to Makai" guru. He shares with us how he got started on SUP and also some tips on stand up paddling in rivers and whitewater rapids.
What's your athletic background?
Athletic background is surfing, skiing, snowboarding, whitewater kayaking, adventure racing, running, mountain biking, ski mountaineering, SUP.
How old are you?
52
How did you get into SUP?
First tried in 1973 for 20 min. or so at 13 yrs old copying an older Hawai'ian guy that did it at Tongg's by Diamond Head. Did not got well. Much better in Fiji in 2003 on a tandem board with a long paddle not a short canoe blade.
How did you join up with C4?
You Tube video of me paddling down river rapids in 2007 on an old Mistral windsurfer. Todd Bradley saw it, contacted me and we had a board meeting in the ocean and then began to design boards for the river.


(click thumbnail to launch video)
What's your favorite discipline of SUP? i.e. river, racing, surf, etc
No favorite, but I guess surf and rapids are the most exciting
What's your top 3 tips for beginners starting river SUP?
When starting to learn river SUP:
1.Take a lesson. Learn how to properly run a river (This does NOT mean just paddling downstream). Safer to get instruction and better to avoid bad habits
2.ALWAYS wear a life jacket, helmet and footwear in moving water and whitewater
3.Take a swiftwater rescue class. It will come in handy and is SUPER fun.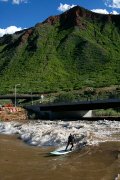 What's your top 3 tips for more experienced river SUP riders?
For experienced Paddlers ( the term "Rider" is misleading and the latest marketing b.s. since most Stand Up Paddlers don't surf ):
1. Make sure you can surf every wave and catch every eddy at your current comfort level of river before trying to paddle harder sections.
2. Don't hesitate to take a knee especially in rocky and technical rivers. It is safer to stay on your board than to swim in these conditions.
3. NEVER attach a leash to your ankle while paddling in the river. If you decide to use a leash, only attach a RELEASABLE leash that is accessible from the front of your torso.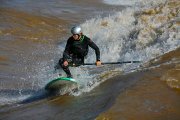 What's your most memorable SUP experience?
Kayaking the Hanalei river from the base of Mt. Wai'ale'ale on Kauai. 10 miles to the coast, four class V rapids and tons of class IV right to the ocean.
What's your fondest experience on the water?
Surfing in Hawai'i
What's your worst wipeout or closest call in the water?
Hard to say, Going over falls of a twenty foot face wave. Making it over the reef at Tunnels.
What's your favorite board, paddle, etc?
Favorite board for the river is currently the C4 Rapid Rider and the BK Pro. The C4 River Paddle and the X-wing Paddle
What do you love most about SUP?
Standing up and canoeing on a board
What's your day job?
Teaching SUP and Whitewater Kayaking. Skiing and snowboarding in the winter
What's on your ipod playlist?
Vieux Farka Toure, Ray La Montagne, Ralph Rebel, New Mastersounds, Morcheeba, Little Walter, Brian Eno
Where have you travelled?
Spain, England, Morrocco, Malaysia, Australia, New Zealand, France, Germany, Austria, Brittain, Canada, Mexico, Peru, Ecuador, Costa Rica, Belize, Italy and Hawai'i.
Related posts