March 26th, 2013 by davi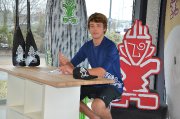 For Immediate Release:
Benoit Carpentier Signs with Starboard
Benoit Carpentier
DOB: 15/02/1996
Starboard is pleased to announce that Benoit Carpentier of Brest, France will join the 2013 International SUP Dream Team. Coming off a competitive 2012 season (7th overall on the Stand Up World Tour), the young Frenchman will look to take his skills to the next level by riding Starboard's highly technical, lightweight, and stable carbon fiber Surf Pro SUP production boards. "We are very excited to have Benoit join our team, he is great fit for our brand and for our image in France. Coming from a competitive and successful water sporting family, we feel Benoit will have the necessary support and now products he needs to 'Live the Tiki Life' and to realize his dreams. We look forward to a long and successful partnership with Benoit and his family."
For all the latest updates and to follow Benoit's progress, check in regularly here: www.star-board-sup.com and here: https://www.facebook.com/starboardsup
Background from Benoit:
I was born in Brest and have always lived near the seaside in Plougonvelin on the coast of the Iroise sea in Brittany. My parents, windsurfing enthusiasts and former competitors, have brought to my two brothers, my sister and me a whole maritime culture: fishing, sailing (dinghy, cruiser, catamaran) , windsurfing, kayaking, diving, snorkeling and surfing.
Of all these experiences, surfing has been the center of the whole family's life. We are used to sharing our boards, so I enjoy trying all types of boards and now I do three disciplines in competition : surf, longboard and stand up paddle.
In surf, I'm one of the best Brittany juniors. In longboard, I'm one of the best France juniors. My favorite discipline and the one I do best in is stand up paddling and since 2012, I'm on the Stand Up World Tour.
Competition motivates me a lot and I also enjoy traveling. These two aspects of surfing give me beautiful human and sporting adventures with seniors to help me grow. It's always exciting and I wish to multiply these kinds of experiences!
Accomplishments:
Stand Up Paddle Surfing:
1st in junior event (Na Kama Kai Youth Challenge) Stand Up World Tour: La Torche 2011 & Sunset Beach 2012
2012 Brittany champion
2012 Sunset Beach and La Torche Pro quarter final
2012 Sapinus Pro semi final
2012 Ubatuba Pro 9th
2012 Location x finals in the BVI 5th overall
2012 Stand Up World Tour ranking: 7th Overall
Stand Up Paddle Racing:
2012 first runner up u18 beach racing France champion
Longboard:
2011 & 2012 first runner up u18 France champion
2012 u18 Brittany champion
Surf:
2010 u14 Brittany champion
Benoit Carpentier Online:
Photo credits: John Carter and Benoit Carpentier.
Related posts