June 11th, 2013 by evan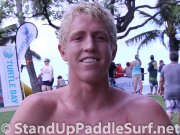 Starboard team rider Connor Baxter shares with us his SUP racing activities for 2013.

Where will you be racing this year?
All over the world. I have already been to Patagonia Chile, Abu Dhabi and Brazil this year. Now I am off to France, Germany and Spain. July will be here in Hawaii. Then off to the mainland to Chicago, California and possibly China.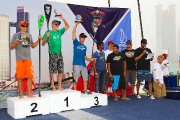 What will you be riding and why?
I will be using my Starboard 12′6″ Allstar for almost all the races, because it is easier to travel with and all the races require that size board. There are a couple races that I will be using my Starboard 14′ board – such as the Lost Mills event in Germany and the Hood River event – as that is the size requirement for those races. For the long distance races here in Hawaii I will be on an unlimited board.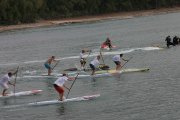 How are the new Starboard race boards working for you?
The new Starboard race boards are working amazing. They are super fast and lightweight. The shapes have evolved so much, allowing me to need only one board for almost all conditions.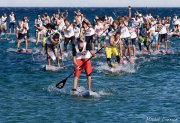 Do you prefer the carbon boards or epoxy ones?
I prefer the Brushed Carbon boards, because they are a lot lighter and stronger.
What board do you use to surf?
I surf on the 7′1″ by 24″ brushed carbon for all conditions unless it is bombing. If it's massive, I will use my 9′6″ brushed carbon.
What's your favorite race and why?
The Molokai to Oahu is my favorite race, because it is the most prestigious race and has a lot of the best people coming out for it from all over the world. It tests your endurance, your skills, your mindset. It's an awesome race.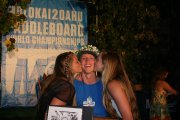 How was the Olukai 2013 race?
The wind was lighter than I would have liked, but there was still bumps to be caught. Dave and I were battling like always, until halfway when I finally put a gap between him and me. When I hit the beach in first place I was so stoked to hold it down for Maui. I was so excited that I decided to dive across the finish line.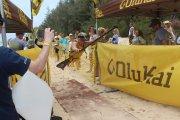 What are you doing to train for the race season?
I am on the water as much as I can paddling, as hard as I can. On a normal day I wake up, do an hour of paddling in circles at the harbor, then I do a beach run and workout and depending how I feel after that try to squeeze in a downwinder.
Where is the most exotic place that you have SUP'd?
The most exotic place I've ever been is Africa. I've never been in the wild before, so it was the closest I've ever been to feeling like something can eat or kill you at any second. I saw a lot of amazing wildlife up close, because we got to paddle right next to the animals down the Zambezi river. It was an amazing adventure.
Africa SUPafari:


(click thumbnail to launch video)
How did you first become a Starboard team rider and how has it been for you?
My parents owned the USA distributorship for Starboard and were very involved in the windsurfing world. Also, my mom raced and competed with the owner, Svein Rasmussen. I joined the Starboard team at five years old, just hanging on the front of the board for all their photo shoots. At 8 years old, I got by first Starboard board and went across the Molokai channel. The Starboard ohana has a great vibe and the whole team is supportive and helpful.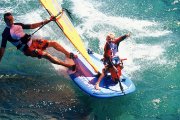 What advice do you have for beginning, novice and advanced racers?
My advice for beginners is to never give up because even though it might be hard to balance on the board at first, once you get the hang of it, it is one of the best sports out there! For advance riders, train as hard as you can, get comfortable on the fastest board for you.
What do you eat when in training?
Whatever my mom cooks.
What supplements do you take and can recommend?
I take Vemma products and Hammer Nutrition. Vemma keeps me healthy and energized. Hammer Nutrition helps me build muscle and gives me the electrolytes and carbs I need.
Have you been injured yet? If so, what have you done that worked best for recovery?
No, not yet luckily.
Related posts