May 16th, 2013 by evan

Here's an interview with Starboard team rider Bart de Zwart where he shares with us SUP racing activities for 2013. But first, let's take a look at Bart's official profile from Starboard.

Bart de Zwart's Bio

Current City:
Haiku, Maui, Hawaii

Quiver:
7′7″ x 27″ , 8′5″ x 29″ , 14′0″ x 25″ , 12′6″x 23.5″ , 12′6×26.5″.

Been on Starboard Team since:
2010

What has been your best SUP trip so far?
Paddling the Zambezi River in Zambia between the Hippo's and Elephants.

What's your plans in 2011-12?
Long distance racing, Flatwater racing and doing a few adventures and expeditions.

What Paddling related accomplishment are you most proud of?
My 5 day and night, 300 mile solo, unsupported and non-stop crossing from the Big Island to Kauai And winning the 220km 11-city tour 2 years on a row.

Tell us about your quiver.
For my flatwater racing like the 11-city tour in Holland I love the ACE 14′ , fast in the flats and picks up any little chop for a glide, The Race 12′6 is 'the' BOP board, fast, stable and surf really well too. In the waves I like the 8′5 brushed carbon for the small to medium waves, it is snappy and fast, the Gun 10′3 is for the big days, Outer reefs, Jaws, this board has a lot of control on the rail and makes smooth exact turns with high speed.

What do you do when you don't paddle?
Work in my windsurf and stand up shop or build on my house

Why did you choose Starboard?
That is easy, Starboard makes the best boards and puts a lot of time in R&D and gives me a lot of support to get to the races around the world.

Tell us one thing no-one knows about you.
I am still a kid, I just look a little older

Where can people find you on the web?
www.sup-crossing.blogspot.com
www.windsurfmaui.blogspot.com

Who are your other sponsors?
DAKINE, Black Project, Contour
Where will you be racing this year?
I am on my way to Europe right now, Holland, France, Germany. Than later some of the world series in Chicago, Germany and Maui. In September the 11 city in Holland and right after the Muskoka river X in Canada. in the end of the year we go to Ile reunion for a race and some photo shoot. And off course the battle of the paddle in Dana Point.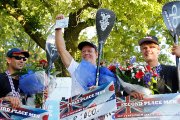 What will you be riding and why?
For all flat water long distance races I use the SPRINT 14′ this is a great board with a very good average high speed ( a high speed you can do for a long time) it has very little resistance and is the board I won the 11-city on last year.
For all beach races, sprint races with buoy turns I use the ALL STAR 12′6, this is the most versatile board there is. It is really fast in flat water, good and stable in buoy turns and in downwind conditions it pick up the bumps good too. I train on this board every day.
For pure down wind conditions I use the ALL STAR 14′ or in light conditions the ACE 14′ The ALL STAR has mrs control in rougher water and it is easier to walk up and down in bigger swells The ACE pick up any little bump
How are the new Starboard race boards working for you?
2013 is a big year with the STARBOARD race boards, they got so much better. After a lot of prototypes and testing the result is there. The downwind boards cut through the chop better and it is easier to overtake waves when you have a glide. The 12′6 all star has a faster average speed and is especially good with short sprints and all boards got lighter.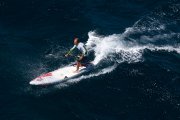 Do you prefer the carbon boards or epoxy ones?
Definitely carbon. A lighter board is a lot faster in the sprint mostly because it accelerates so much better. Which is important during races with wind against you or going against the chop or for shorts distances when it is all about the sprint speed. But an epoxy board could be a good start race board.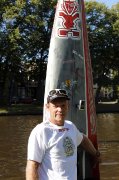 What board do you use to surf?
I use 3 boards.
Pro 8′0x 28 Pro 8′5x 29 and Pro GUN 96 x 27 The last one is my favorite board because I use it in Maui when the big waves roll. In the winter we have a lot of big days in Maui, you can find me in Hookipa or Lanes or one of the outside reefs.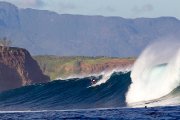 What's your favorite race and why?
For sure the 220km 5 day, 11-city tour, For me this is the tour de France of SUP. I like it because it suits me. I prefer the longer, harder races. This race has everything, sprint, endurance, tactics, strategy, food and going deep. This race is both mentally and physically demanding. Everybody should do this race at least once in his/her life.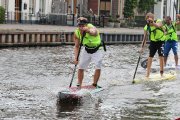 What are you doing to train for the race season?
I train almost every day early in the morning before I open my windsurf/sup shop, mostly with Connor Baxter or Kody Kerbox sometimes by myself. I mix it up between, sprinting, interval and endurance. When I get close to the 11-city I start to do longer training sessions apart from the morning workout. I do at least 2 or 3 longer ones every week.
Where is the most exotic place that you have SUP'd?
A couple of years ago Connor and I did an awesome expedition on the Zambezi river in Zambia, that was one of the best stand up paddle adventures I have ever done. We saw so many Hippos, Crocodiles, Elephants and other wild life, just amazing. That is a big part of SUP I love, going and exploring new places setting new records and doing things which haven't been done.
Caren mentioned that you will SUP the arctic on a Starboard inflatable. What prompted you to want to do this?
The last years I have always done at least one extreme crossing and set a record for longest non stop solo and unsupported crossing between Big Island And Kauai so I was looking for a new challenge, after seeing a documentary "Chasing Ice" about the retrieving glaciers I thought Greenland would be the perfect backdrop for a crossing so after some research I decided on Canada -Greenland. My route is just above the Arctic circle which makes it even more exciting. You can follow this crossing at www.sup-crossing.blogspot.com
What will your training be for this arctic paddle?
For an adventure like this I don't do any other physical training than I am already doing. But the mental part is much more demanding. You have to prepare yourself for all circumstances. This means prepare your gear, food, transportation, clothing , safety gear and all the other small details which makes this a successful expedition.
What equipment will you take with you?
I am going to bring a 16′ inflatable board with a few adaptations, warm clothing, water maker, 2 GPS's, compass, EPirb and other safety gear, a special SUP drysuit from SUPSKIN and food and water for double the amount of days I expect to need. And I will bring a tracker so everybody can follow my progress through satellite.
Where exactly will you be paddling in the arctic?
I will start at Cape Dyer, Nunavut, Canada to Sisimiut, Greenland
How did you first become a Starboard team riders and how has it been for you?
I did some races in Maui and paddled around Maui in 3 days then I met Svein Rasmussen and helped me out with some race boards. After I won 1st place in the 11-city and 4th in the Hamburg world cup, I was lucky enough to become and International team rider. Since then STARBOARD has been there for me in a big way, helping with all the races and adventures I have done over the years.
What advice do you have for beginning, novice and advanced racers?
The best advice is get a good board, train hard and start to do races, first small and gradually go higher up. If you work for it you will get there. And train with somebody of your level, you will push each other to a higher level. It is not a coincidence that there are so many good Hawaiian and Australian racers.
What do you eat when in training?
I have always eaten healthy, I am practically training year round so my nutrition doesn't change much during the year. Lots of fruits and vegetables, muesli for breakfast no fast food and other processed food. I use Hammer products during races and crossing. Powder drinks to get the energy and electrolytes and protein you need during and after races. Last but not least I don't drink any alcohol, I have never done so it is easy to keep that up. That doesn't mean I am a saint, I like sweets and chocolate and it is Ok to some of the bad stuff as long as it is an exception and not the rule.
What supplements do you take and can recommend?
I don't take any thing extra except the Liquid nutrition I use during the races.
Have you been injured yet? If so, what have you done that worked best for recovery?
If you train hard you often feel something here or there. For stand up it is mostly, elbows or shoulders. If I start to feel something I will take it a little easy on myself for a couple of days until you feel your body is recovering. I often have people who write to me that they started taring hard and feel a pain here or there. You should always build up the training and gradually start to train harder. Last thing I believe in water time. If you have the option always choose water training over gym or land training.
Related posts