May 17th, 2013 by evan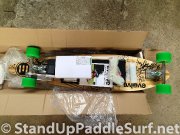 I recently purchased an Evolve "Pintail" electric skateboard from Evolve Asia. This is the third electric skateboard I've bought so far. The first was the Altered Electric M6 800 which I got from Robert at Blue Planet Surf. I actually got 2 of those because I thought it would be fun for two people to ride together. Unfortunately, that never happened. I ended up using it a lot for a while but a few things prevented me from making it a part of my routine. The m6 was great in that it could go on road and off road. The all terrain tires rode over just about anything and the low end torque made it awesome to get up steep hills. The brakes were also really good and I could descend steep hills at a speed which was comfortable to me. The drawbacks to the board were the weight and range. It weighed over 60 lbs because of the lead acid batteries and it also only lasted around 30-40 minutes or so. I think it was rated at 8 miles but it seemed like less. These are great for off road and I used to ride tandem with my son. I ended up selling these a while ago and never thought I'd get another electric skateboard.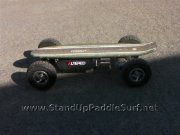 Altered M6 800 Electric Skateboard
My interest in electric skateboards got renewed when I saw the kickstarter campaign for Boosted Boards on facebook. I ended up getting to demo the prototype and posted that review here. I really liked riding the boosted board and ordered one via kickstarter last October 2012 scheduled for the 2nd production batch to be shipped in June 2103. Due to unforseen delays, boosted now has no eta and gives no insight into this. They can't even tell us a date range. The board looks sexy in the marketing pictures but it would be nice to have a real shipping date range. I would have been happy with the prototype. I got tired of waiting and researched the Evolve for a couple weeks before deciding to buy.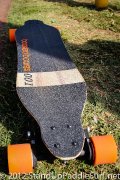 Boosted Boards Electric Skateboard Prototype
In the research process I also tested out a metroboard gravity midsize. I contacted the owner Ilan and he put me in touch with one of his customers on Oahu. That customer was super cool to let me try his board to see if I wanted to get one. The metroboard was a little heavier than 20 lbs and was setup to go fast so the trucks were a bit stiff. It had abec 11 90mm flywheels so it sat pretty high off the ground. I liked it but only got to test it in a parking area of a condo complex. I'm not sure how it performs on steep hills. The controller was a Wii nunchak and felt really good in my hand. The acceleration, brake, etc were a little confusing because you need to hold the top button down with your index finger and then move the throttle with your thumb in increments. Each push forward on the throttle would increase the speed incrementally. The bottom button was the brake and the speed would drop back down to the lowest speed setting once I used the brake. I think it would take a while to get used to the remote functions. It wasn't very intuitive. The owner, Ilan was super responsive and obviously cares a lot about customer service. This board may also be a good option for those who can use it to commute.
When I finally decided to order, the Evolve Australian HQ ran out of stock so I had to contact their Asia distributor. Both were really helpful and straight forward. Jeff is the owner and the Aussie guy you see in the videos on youtube. His Malaysian distributor is Brian and also has a lot of videos on youtube. I know because I spent hours over a couple weeks watching them and trying to decide whether or not to buy. I ended up buying from Brian in Malaysia on a Friday in the USA. I got the shipment the following Wednesday. That was faster transit than from the east coast of the USA. I was super impressed. I topped off the charge for the board and then tested it. As of this post, I've put in probably about 3 hours of riding on the board and here are my observations.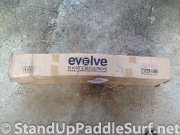 Shipping time was very fast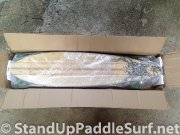 Packaging was very good
Pros:
The boards looks slick
It's under 20 lbs which means I can easily carry and transport it
It can go fast if I want and is stable when going fast
The trigger on the remote is very sensitive and precise making it easy to control
The double trucks allow very tight turns
The carving closely mimics surfing and snowboarding
It's way more fun than riding a bike
I can now keep up with my kids on their bikes and scooters
The board has been tested extensively and is available for purchase now
The range is 15 miles or roughly 2 hours of riding
Customer service is very responsive and helpful
Abec 11 wheels provide a very smooth ride
Cons:
Weak on steep hills
Brakes are ok only on non steep hills
There's a lot more pros than cons. I think the Abec 11 Evolve boards run around $1200-1250 delivered to your door. That's about the same as a SUP board. If you're looking for more adult toys, you won't be sorry.
Check out the video below where I share a detailed look at the Evolve "Pintail" electric skateboard.


(click thumbnail to launch video)
Related posts