January 10th, 2010 by evan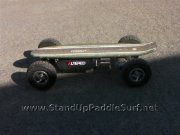 I recently visited Robert Stehlik at the Bionic Wheels office and Boardworks warehouse to check out the M6 800 "Green Machine" from Altered Electric Skateboards. I was supposed to try an earlier China brand model that Todd Bradley had but it wasn't working. After forgetting about it for a while I asked Robert to demo one of his Altered Electric models. I'm glad I did.

Robert gives a detailed look at the Altered Electric M6 800 "Green Machine" in the video:


(click thumbnail to launch video)
The M6 is a battery powered skateboard that is controlled using a wireless hand-held remote. On a fully-charged battery pack, the skateboard can go up to 8 miles or about 45 minutes of riding time. I'll test this with my GPS watch later to get an actual distance. The first session I rode it, I went up and down the street and hills near my house. I wasn't paying attention to the distance and ran out of battery about 1/2 a mile from my house. After pushing the board home, I am more careful on how far I ride.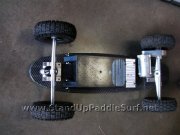 The M6's 36 Volt battery pack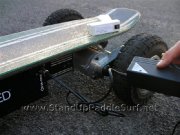 With the battery charger attached
Max speed is about 20 MPH which is faster than I want to go on a skateboard. At first when I heard 20 mph, it didn't seem that fast. After riding the board, I almost never take it to the top speed. It's nice to know that it can go fast if needed but I haven't felt that need yet.
The M6 is also an off-road model, so it can be used on just about any road surface (gravel, grass, etc.) as long as it is hard-packed. Robert doesn't recommend using it on loose surfaces like sand because the wheels will dig in. I live in an area that has no concrete sidewalks. Instead, there's grass as sidewalks. This is super fun to ride on.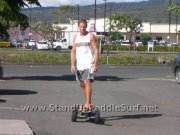 Robert Stehlik with the M6
The most fun part about the M6 is the ability to ride tandem with my boys. I haven't been very successful at getting my boys to like surfing. They'd rather build sand castles. Riding together on the M6 was super fun. You just have to be careful. It's also amazing that the board can go up hill with both of us on it. This comes in especially handy when my oldest boy wants to ride his bike and wants his younger brother and me to come with him. My #2 son still has training wheels so it's more fun for me to ride with him on the M6 and have my oldest boy ride his bike. We can actually beat my older son in a race if we want.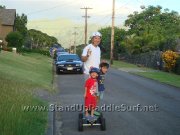 Me and my boys having fun with the M6
I was also able to take my garbage barrels up and down my driveway with the M6. There are a lot of things you can do with the M6 that make it versatile.
The turning on the M6 is a bit stiff. This must be to help the stability when going fast or off road but it would be nice to have this a bit looser. The trucks have bushings on them so maybe the bushings can be changed out. I'll have to find out.
I'm going to get one of these after the holidays instead of the bike I was going to get. It's just more fun. I'll get it from Robert at www.BionicWheels.com.
Related posts