September 19th, 2016 by evan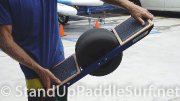 Robert from Blue Planet Surf got a Onewheel and we tried it out in the parking lot. It's not as easy as it looks in the marketing videos. Robert gives us a quick breakdown and we review it together.



(click thumbnail to launch video)
About Onewheel:
Onewheel :: the Revolutionary Electric Boardsport goes from the lab to the dirt. The 2000W brushless hub motor, lithium batteries, dynamic stabilization and digital shaping combine to create an incredible carving machine.
Onewheel enables you to interact with the world in ways never thought possible. The ability to chose your line and commit no matter where you're riding makes you realize the world is one giant powder run. Our riders took off from the factory and shredded some amazing terrain and features. Get yours and push the limits of this brand new boardsport. California dreamed, California made.
Related posts