September 21st, 2015 by evan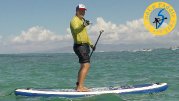 Here's a quick review of Blue Planet Surf Hawaii's new 10′6″ Multi Tasker Inflatable SUP Board. It is a fun, all-around board that you can use for cruising or even SUP surfing on small waves. Another good thing about the board is you can let your kids use it with having to worry that they might damage it.



(click thumbnail to launch video)
You can check out the Multi Tasker Air and other inflatable SUP boards at http://www.blueplanetsurf.com/.
Related posts