April 28th, 2014 by darin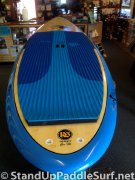 Review written by: Darin Leong
It has taken me awhile to work up to this board, but the Rock N' Roller is now my favorite all around board. It is a great balance of performance and enough stability for lots of fun in all kinds of conditions.

The Board
The Rock N' Roller measures 9′0″ x 29″ x 4″ and is 130 liters. The outline bears some similarity to the Sweet Spot, Fun Stick and Ghetto Blaster. As far as size, the Rock N' Roller sits in the middle of the bunch. The nose comes to a point, which I've come to love, as it planes without a lot of lifting from any headwind. The tail is also pulled in, allowing easy turning. The Rock N' Roller has a nice gradual rocker, which is a good balance of glide and performance on the wave. Like all Blue Planet boards, the Rock N' Roller comes with a built-in deck pad, option of various fin setups, GoPro mount (see video included with this review), automatic heat vent, and the new handle design. The new boards also feature a carbon layer on the deck, which makes the boards even stronger.
In the Surf
I have been riding this board in all kinds of conditions and absolutely love it. I've finally entered the intermediate SUP ranks, and this board is just right. The dimensions and 130 liter volume make it nice and stable, so even when it's windy, I'm not thinking too much about balance. The size is also still big enough that it glides, making it easier to get up to speed and catch waves. On waves, the board's dimensions allow it to really perform. It digs into turns and is totally responsive from rail to rail. I'm not at the point of being able to fully maximize the board's turning radius due to my own skill limitations, but the Rock N' Roller really makes turning and maneuvering around waves easier than bigger boards. The board picks up speed well, and changes direction easily.


(click thumbnail to launch video)
Conclusion
This is a great all around board for the intermediate to advanced rider. It's big enough to be stable, and small enough to make rail-to-rail turning easy.
Related posts