May 3rd, 2014 by darin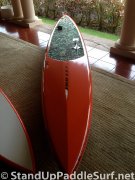 Review written by: Darin Leong
The SIC Bullet 14″ Version 3 takes the ultra-popular Bullet 14 and makes it sleeker, flatter and faster.
The Board
We have been able to test the V2 and V3 side-by-side. Let me start with the obvious, both of these boards are incredible downwind vehicles. Hence the popularity of the Bullet line. Whereas the V2 is forgiving, gets into bumps easy, and is just a ton of fun, the V3 builds on those traits and adds some advanced rider features. The V3 is flatter than the V2, which can be seen with the naked eye. The V3 also has a narrower than the V2. These two adjustments make for a board that requires a bit more balance, but translates into more speed. Like the rest of the Bullet line, these boards have the option of a foot-adjusted rudder.
On the Water
The V3 has a nice glide. In light wind conditions, the board planes well. Given the very flat rocker, it requires attention to the front-to-back trim. If you get the trim right and keep the nose just above the water, those adjustments pay off. The real secret to this board, however, is its top speed. Once the board gets going, it really lifts and planes above the water. For those riders who are able to get downwind boards up to speed, they will find great benefit and fun in the added top-end speed.


(click thumbnail to launch video)
Conclusion
The V3 is a fun board that builds on a great design by giving it more advanced features, which includes higher top-end speed.
Related posts