July 23rd, 2013 by davi
Connor Baxter Wins the 2013 Maui Paddle Championships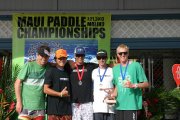 Recap by Connor
The 2013 Maui Paddle Championships was a great event with over 200 competitors. This Maliko race was one of the most fun downwind runs I've had this year.

The race started at 1 o'clock, which was probably the windiest part of the day and I was super stoked and amped up to go race. We had the race briefing and blessing at 12:15 and quickly after that I hit the water to go get this show on the road. This year it was an outside start, which was awesome because I could get pretty far out on the line and set myself up for a perfect run. We all had to sit down on our boards and wait for the horn to blow. They waived the yellow flag from the start boat and shortly after the horn blew – and I quickly jumped up on my feet – pretty much on a glide with Zane Schweitzer – for a perfect start. Livio Menelau and Jeremy Riggs pulled a little ahead but I was not going to let that happen, so I put my head down and caught up to them quickly and actually started to make a gap on them. I kept catching bumps and trying to connect all my glides.
After a little bit I noticed that I had a comfortable lead on the rest of the group. Knowing this I just tried to keep that rhythm going and surf my way down to the harbor. I just got into my own zone, caught a bunch of great glides and really didn't focus on who was behind me until I got to the halfway mark around 5 miles. I now realized that I had about a 3 minute gap on the second place rider but I wanted to beat them by more so I kept grinding. The bumps started to slow down and it was getting harder and harder, but I kept my head down and was not letting anyone catch up today.
Sure enough I just kept it going and a little under an hour I hit the harbor mouth. My goal was to beat an hour so I knew I was going to have to paddle into the beach as hard as I could. I finally hit the beach and ran up as fast as I could, looked at the time and I got an hour and one minute which beat the old record from last year. I also ended up a little over 3 minutes ahead of second place – a good distance in front. Overall I was super stoked on my result and how I paddled and how all my equipment was working.
I want to thank my sponsors for all their support – Starboard, Maui Jim Sunglasses, Rainbow Sandals, Trident Sports, Futures Fins, Dakine, GoPro, OnIt Pro, Waterman's Sunscreen, Igloo Coolers, Sunrite Maui, Hammer Nutrition, iDcard, EFX and Hi-Tech Sports.
Also a big Mahalo to all the event organizers and volunteers. The Gangini Family did an awesome job – John, Karla, Talia & Tehani. Great Event!!
Aloha,
Connor Baxter
Heading out of Maliko Gulch photo Harry Wiewel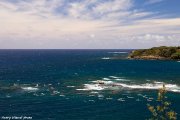 After the Start photo Harry Wiewel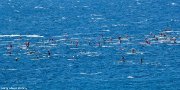 Coming to the finish line inside Kahului Harbor photo's Karen Baxter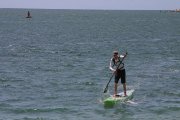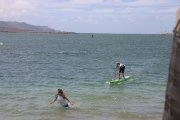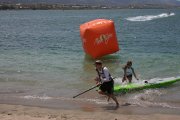 Connor & his sister Ashley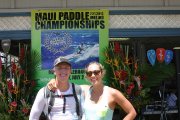 Related posts