April 13th, 2014 by evan

In February, I went to the 2014 Stand Up World Tour Women's Pro finals. The conditions were really good. Very blue skies, light winds, and the water was looking pretty nice. It wasn't really choppy and bumpy. The waves were big enough for a decent surf contest, I think some of the sets coming in were about double overhead or so, and they were definitely rideable.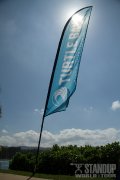 The event was held at Turtle Bay and the hotel was pretty crowded in terms of good occupancy. Looked like a lot of people were there watching the event. Turtle Bay has, by far, the best venue for people taking video and pictures, and for the media to cover a surf-type event. It's super easy to just sit right there on the cliff, near the pool and take your pictures and video. And if you need to, there's nice and clean bathrooms. There's also WiFi access that allows for easy streaming video. So, I really like Turtle Bay a lot.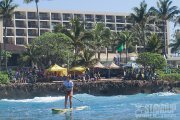 I only was able to watch the event for roughly an hour. I caught parts of the quarter finals and the girls were surfing really well. I wish could've stayed longer. Turtle Bay is by far the best place on Oahu to spectate a SUP race or surf session. You are close enough to the action but not too close that you are in danger. There are clean bathrooms, pools, bar, hot tubs and seating. I feel spoiled when I get to shoot pictures and video here.
Here are some action shots.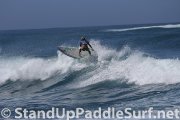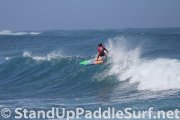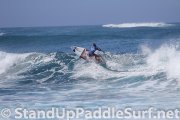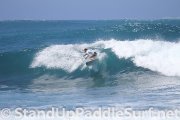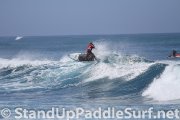 More photos:
Related posts