December 8th, 2014 by davi

A long time coming, but all the training paid off! Congratulations to Beau O'Brian for winning the Doctor Race in Australia over the weekend. Beau was able to narrowly out paddle Travis Grant for the win.
Beau provides us with his account of the event below… we look forward to the next event King of the Cut in Australia this weekend Dec 5,6, 7. Should be another great match up!

From Beau:
In the past few months I have been training for one of the toughest races I have ever done, "The Doctor". I have competed in this event 3 times previously, finishing runner up at the last two.

This year the line up included paddlers such as Travis Grant, Lincon Dews, Jake Jenson and many more, I knew it was going to be tough competition.

Leading off the start I set myself up to hit the bumps 1st followed closely by Travis and Jake.

After a few km we managed to drop Jake and it became a 2 man race.

At the 20 km mark I had a great lead on Travis until he bit back and went from being behind and then he got ahead of me to have a nice lead.

The last 7 km I was playing catch up and got back up the inside of Travis with about 300 m to go until the finish. Coming into the beach with only 1 runner between us it came to who hit the beach first.

I got off perfect and I was running, didn't know I could run that fast.

As sick as I felt after the race it was still such a great feeling to finally beat one of the worlds best paddlers and also someone I looked up to in the sport.

It was great finding out I got the course record of 2 hrs 11 mins and 59 sec, which was 20 mins fastest than the previous record held by Jake Jensen.

The field was tough but now its time to recover and get ready for another head to head battle at the King of the Cut race.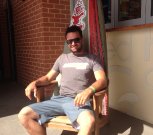 Related posts