June 10th, 2015 by davi
Connor Baxter wins the Prestigious "Lost Mills" Event in Germany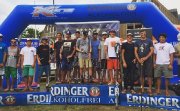 The 2015 "Lost Mills" Event was definitely a great way to spend the week in Germany. From the moment I landed until I left – it was jam packed with fun and some of the craziest racing.

As always the Starboard crew picked me up and we went straight to the river wave, where I surfed my brains out. Once I couldn't move from being tired and cold – I got a good meal and some rest.
The next day I rolled up to the event site and it was a beautiful summer day, so everyone was there and ready to begin the racing. Thursday and Friday there were just fun races – but the long distance event was where all the points for the Euro Tour were. So I put all my focus into that race, but still raced the other races for fun. The races were nice and short, but I had to race a bunch of them. It was a good warm up for the long distance where I knew I had to work harder then ever to beat the stacked field that showed up to race.
The day of the race I got a good breakfast and did my normal routine of stretching. I was in the zone and knew it was going to be a long hard day of paddling 18km, but I knew exactly what I had to do. My plan of attack was to try and take it easy so I would have extra gas in the tank for the last sprint. I got a warm up paddle in and then I lined up on the start line. I looked around and made sure I was close to my competitors that I knew would be a threat. When the horn blew I made sure to get out of the mess and into clean water.
After 10 minutes of sprinting everyone got into a line and the drafting game begun. I set my self up in about 7th place, so I was really saving my energy. Like always we all had to jump out of the water and run up and over the dam into the big lake. Before I hit the beach I sped up so that the lead guys didn't pull away from me. As I got into the big lake I was in 4 place which was exactly where I wanted to be. Not much happened in the big lake other then a lot of drafting and a few attempts of someone trying to break away. I always stayed in a position where I was with the top guys and trying to save as much energy as I could.
On the way back the pace started to pick up and everyone was getting more and more excited. At times we had 2 to 3 trains going and it was a nut show but I stood my ground so no one could knock me out of the train. As I got close to the dam I jumped into the front because I knew someone was going to make a move and I wanted to be ready. I turned the buoy and picked up the pace into the beach. Titouan and I hit the beach and sprinted up and over the dam straight back into the water. When we hit the water we were side by side and sprinted as hard as we could to make a gap on the rest of the train. I had my head and didn't let Titouan leave my side. After a little bit I took a quick glance back and only Trevor and Arthur were behind us. From the dam to the finish line was 2.6km and Titouan didn't let up for second so it was one of the longest hardest sprints I have ever done in my life. As we got close to the beach I knew I was going to have to make a move so that is exactly what I did and shifted into the next gear. I was only able to put a board length gap on him – but that was all I needed to run up the beach in first place. I was so stoked and relieved to finish the race and to have beaten a super stacked field.
The long distance race took me 1 hour 49 minutes.
And with Titouan Puyo and Trevor Tunnington coming in second and third – it gave Team Starboard a clean sweep of the men's podium – which considering the big names assembled at this event says a lot about the boards that Starboard produces!!
I want to thank my sponsors for all their support – Starboard, Discovery Land Company, Dakine, Maui Jim Sunglasses, Rainbow Sandals, Futures Fins, Hammer Nutrition, GoPro, Waterman's Sunscreen, OnIt Pro and Hi-Tech Sports.
Also a big Mahalo to all the event organizers and all the volunteers. Great Event!! My third time at this event – and it just keeps getting better and better every year!
Aloha,
Connor Baxter
You can stay in touch with Connor:
Join his Facebook page https://www.facebook.com/connorbaxterathlete?fref=ts
Following him on Instagram http://instagram.com/conbax
Twitter https://twitter.com/ConBax
Subscribing to his blog http://blog.connorbaxter.com
YouTube channel http://www.youtube.com/user/baxconnor
START OF RACE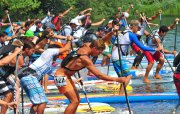 AFTER START
DRAFTING TRAIN – CONNOR IN FRONT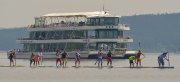 DRAFTING TRAIN – CONNOR IN FRONT

SPRINTING TO FINISH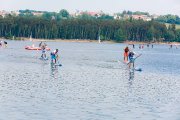 AFTER RACE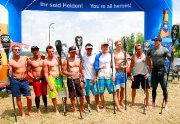 Related posts