June 10th, 2015 by davi
Connor Baxter wins The 2015 St'Ives Bay Celtic Cup in UK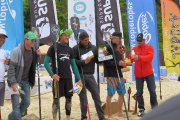 The 2015 St'Ives Bay Celtic Cup was not only a hard race, but it was freezing cold – especially being from Hawaii. The conditions were very challenging with howling winds and overcast skies. It was a 3 lap course that was about 4k each lap.

It started off with a short upwind – then nice little downwind – then a brutal upwind back up to the top. I looked at my competition and lined up next to them for the beach start. As I waited for the start of the race – being freezing cold – all I could think about was that I had to paddle hard enough to keep warm. So when the horn blew I sprinted down the beach into that cold water and jumped straight to my feet. I started off super hard to make sure I got out of the bad water and into the clean water.
Fernando Stella turned the first buoy in first – then I did and we headed upwind to the next buoy. I made a nice quick turn at the second buoy and started paddling with the wind and bumps. I slowly started to pull away from the group and made my way to the next buoy. When I got there I turned the buoy and had a nice cold blast of wind straight into my face. It was only the first lap so I didn't go all out upwind, which allowed the group of 4 guys to catch up to me. I knew I would be able to make a gap again on the downwind part of the race. We all worked together to the upwind buoy and once we got there I did the same thing and sprinted right away and slowly made a gap on the group and this time I wasn't going to let anyone catch back up to me, so I kept the hammer down and for the second lap I was able to just stay in front of the group.
I knew I had to make it in first around the buoy for the next downwind leg, so I paddled hard and turned the buoy still in front with a small led. I tried to catch every little bump and kept up the hard paddling to the next buoy. I turned the second to last buoy and started grinding upwind to the last buoy for the win. I managed to stay in front, but they had a good pace and caught up a lot. I luckily stayed in the first place spot and ran up the beach with my numb feet and legs – in first place.
I was joined on the podium by my fellow Starboard teammate who won the women's event – Fiona Wylde.
I want to thank my sponsors for all their support – Starboard, Discovery Land Company, Dakine, Maui Jim Sunglasses, Rainbow Sandals, Futures Fins, Hammer Nutrition, GoPro, Waterman's Sunscreen, OnIt Pro and Hi-Tech Sports.
Also a big Mahalo to all the event organizers and all the volunteers. Really great job for their inaugural event. Everyone had a good time.
Aloha,
Connor Baxter
You can stay in touch with Connor:
Join his Facebook page https://www.facebook.com/connorbaxterathlete?fref=ts
Following him on Instagram http://instagram.com/conbax
Twitter https://twitter.com/ConBax
Subscribing to his blog http://blog.connorbaxter.com
YouTube channel http://www.youtube.com/user/baxconnor
That is COLD!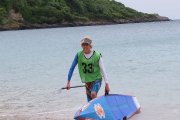 Getting ready for the start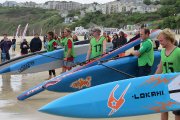 Beach Start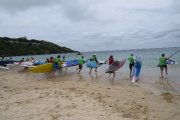 The Drafting Train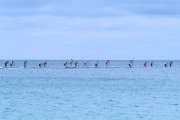 Out in Front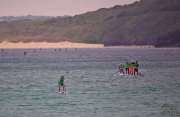 Coming in for the First Place Finish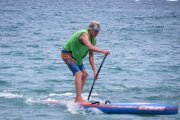 Great Event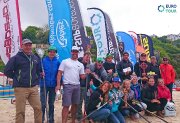 Related posts