January 10th, 2016 by robert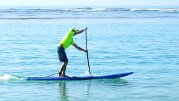 When I first started Stand Up Paddling, I was struggling to catch waves. I was pulling on the paddle as hard as I could and figured the harder I pulled on the paddle, the faster the board would go. I also kept breaking paddles. A big breakthrough for me came when Brian Keaulana gave me this tip after watching me try to catch a wave: You are starting in first gear, you need to start in first gear. He told me first gear with the paddle is short quick strokes way up in front, just tapping the water. That was a turning point for me, I learned how to use these strokes and it worked like a charm. Not only was I no longer breaking paddles but my board would accelerate with just a few quick strokes and I started catching more waves. This technique also works well in downwinders, whenever you need to accelerate to catch a bump. Even in flatwater races you can use them at the start or after turns. So I encourage you to watch the video, try this first gear acceleration stroke, and you will be a more well rounded paddler. Not all strokes are the same, learn to use different gear when paddling and switch them up as needed. Continue watching after the video ends to see all the videos in our SUP Tips series.


(click thumbnail to launch video)
This video demonstrates how to accelerate quickly on a Stand Up Paddleboard by "starting in first gear". Quick, short, strokes create lift and smooth acceleration that will help you get the board on a plane to surf a wave or catch a bump in downwinders.
We hope you enjoy our videos, please give us a thumbs up, check out the other SUP tip videos on our channel and subscribe for our latest videos posted weekly. For more information on our weekly training group mentioned in the video, please click on this link: http://zenwaterman.blogspot.com/2012/10/weekly-time-trials-in-hawaii-kai-video.html
Also check out our private coaching offerings here: http://blueplanetsurf.com/pages/lessons
Thank you for watching,
Aloha, Robert Stehlik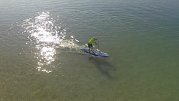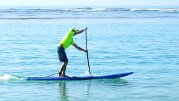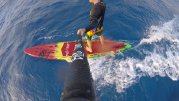 Gear used in this video: Kai Zen paddle with 88 blade, the blue board is the 2016 12′6 x 28 Blue Planet Bump Surfer, the rasta board is the 14′ x 28″ Bump Rider. Drone video shot with the Hexo+ drone, land video by Evan Leong of standuppaddlesurf.net.
Related posts