November 3rd, 2009 by evan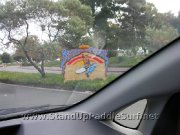 I was fortunate to be able to attend this year's Battle of the Paddle, not as a racer but as a spectator. The thought of cold water, unfamiliar territory, logistics of equipment, etc didn't make me want to race. I had a great time shooting pics and video and got a chance to see a lot of the movers and shakers in the SUP industry. Then my camera battery died. Oh well. I know this took a while to post but here it is. I didn't get that many pictures of the races because I was shooting video so if you want to see the races, please watch the videos.

Distance Race Highlights:



(click thumbnail to launch video)
Relay Race:



(click thumbnail to launch video)
One thing I noticed was that the Hawaii racers were really comfortable in the surf. I could see their posture change when they rounded the final buoy into the surf zone and when they caught a wave, they had an "it's over" look to them. Slater was definitely one of them.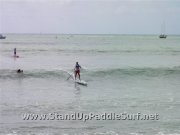 Slater Trout
Aaron Napoleon was helping out others by carrying their boards. Since he always finishes in the top, there's a lot of time to help out.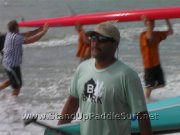 Aaron Napoleon
Jeff Chang from Wet Feet showed his tenacity by sprinting at the end. Check out the guy in the referee uniform. He deserves an award, free beer/food and a tip. I watched him save so many boards from damage by jumping, diving and lunging. Most valuable player goes to him.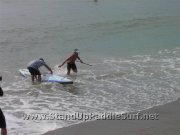 Jeff Chang
Some of the Hawaii contingent: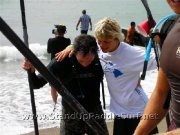 Edmund Pestana and Zane Schwietzer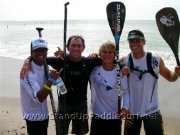 Kainoa Beaupre, Edmund Pestana, Zane Schwietzer and Robert Stehlik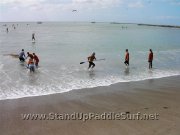 Candice Appleby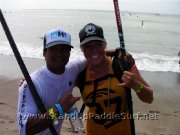 Kainoa Beaupre and Candice Appleby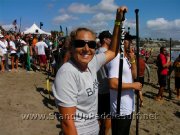 Morgan Hoesterey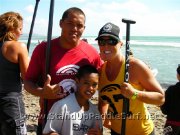 Nolan Martin, Candice Appleby and Riggs Napoleon
It wouldn't be a race without Sam Pa'e. I think Sam gets the 'best attendance' award. I can't remember a race that I've been to that he wasn't there.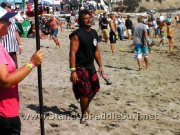 Sam Pa'e
Riggs Napoleon is already a force to reckon with, even though he's only 10 years old. He paddled a Surftech Bark lie down paddleboard. I can barely even lie on that board and balance while Riggs stood up on it and surfed with ease (as you'll see in the video).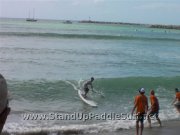 Riggs Napoleon surfing
Then he walked right off it at shore and ran to the finish line. The best part for me was when the announcer asked him how it was out there and he said, "It sucks that it's so cold…" One more reinforcement for my decision not to race.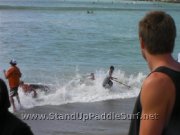 Riggs Napoleon running
Speedo man must not have been affected by the cold.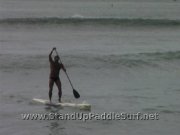 Speedo SUP
The start line at the SUP relay race was crazy packed.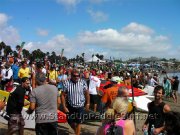 Start line at SUP relay race
Zane sent in this picture of the carnage in the water.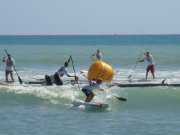 Carnage at Battle of the Paddle 2009
Jamie Mitchell catching his breath during the relay.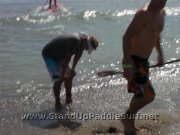 Jamie Mitchell
Mark Raaphorst mentioned that the kelp was an issue they didn't know about prior to the race. He said that he would pull ahead and then all of a sudden the others would start passing him and then he noticed all the kelp stuck to the rudder. He had to remove it by hand over and over which of course affected his time.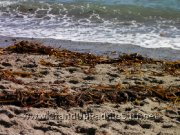 Kelp
Mark still had and has a great and positive attitude. Here he is talking story on shore.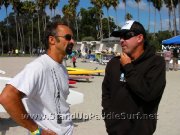 Mark Raaphorst (left)
Pono Bill was there and went home with Mark's F-18. Bill was pretty tired but at his age he's doing a great job.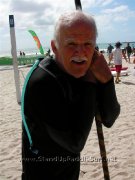 Bill BabCock
The F-18 that Bill got is a bit different from the one that I have. His board has sharp bottom rails and mine has round and smooth ones. His tail is more cut off and mine looks like the tail on an OC-1. I think his deck is scooped out a bit and mine is flat.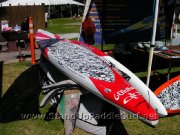 Bill's new F-18 SUP
I walked around the booths checking out the gear. The beach in California has these handy built in barbecues and the only one in use was full of food. I knew it had to be the Hawaii guys and I was right. What can I say? Hawaii people love to eat. I ended up joining them.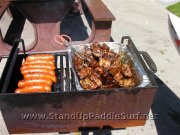 Barbecue
The barbecue was between the Solo Paddle tent and S.I.C. booths.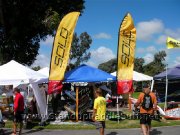 Solo Paddle Booth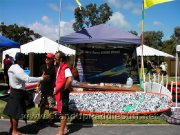 Sandwich Island Composites Booth
Kevin Seid from Everpaddle on the North Shore of Oahu was there to show off his stuff and race.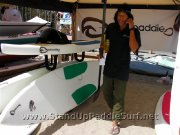 Kevin Seid
The guys from Waterman's Applied Science were kind enough to give me a hat to block the sun.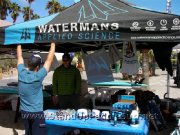 Waterman's Applied Science Booth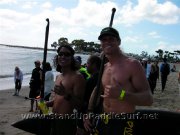 Kevin Seid and Robert Stehlik
The Surftech truck.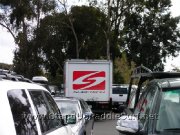 Surftech Truck
The Starboard crew.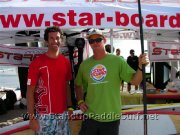 John Hibbard and Scott McKercher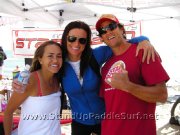 Honora Kalama, Nikki Gregg and Dan Gavere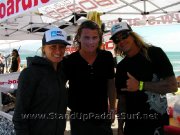 Margareta Engstrom (left), Ernie (EJ) Johnson (right)
Boardworks and C4.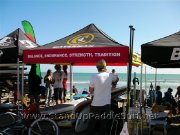 C4 Booth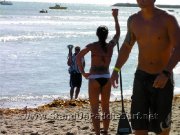 Nice Paddle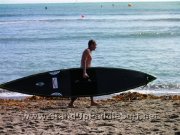 Gerry Lopez
There were definitely some interesting looking SUP race boards there.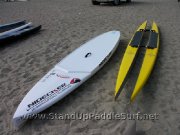 Nidecker and Standamaran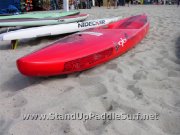 Brian Szymanski Prototype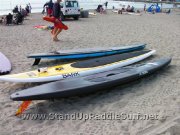 Surftech Bark Expedition 14′ and Hobie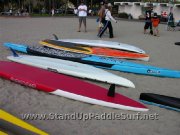 Starboard SUP Racer, Ohana SUP and Bark SUP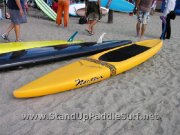 Nectar SUP Racer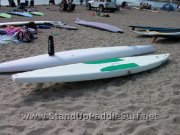 Everpaddle Race SUP
Here are some pics of the race course:
Elite Race Course – Battle of the Paddle 2009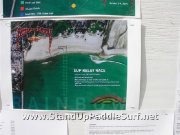 SUP Relay Race Course – Battle of the Paddle 2009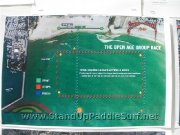 Open Age Group Race Course – Battle of the Paddle 2009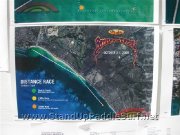 Distance Race Course – Battle of the Paddle 2009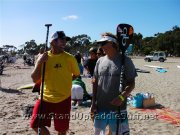 Chuck Patterson and Jamie Mitchell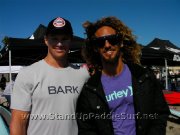 Scott Gamble and Rob Machado

Steve Boehne and Joe Blair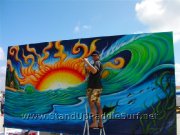 Drew Brophy
Related posts