October 31st, 2009 by evan

Back by popular demand, the Nui Loa SUP stand up board by Tropical Blends Surf fills the need for an all around family board. Whether on a lake, slow moving stream or the wide open ocean, the Nui Loa offers a graceful refined approach to having fun on the water. The carefully crafted bottom contours provide significant stability without hampering the rider's ability to continually improve. From beginner to experienced paddler, the Nui Loa supplies the perfect platform for point to point adventures, fitness paddling, fishing, surfing or just hanging around in the sun.

The Nui Loa comes in multiple color schemes and one of them has a very slick looking bamboo wood veneer. You need to see it in person to appreciate how nice they are.
The Nui Loa
Length: 11′ 9″
Width: 32″
Thickness: 4 1/2″
Fin set-up: 2 + 1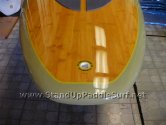 Slightly square tail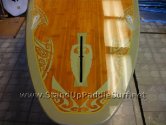 3-fin boxes for a 2+1 setup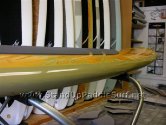 Rail top side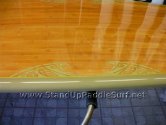 Rail and bottom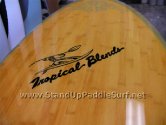 Bamboo veneer close up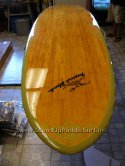 Really nice polished finish on a bamboo veneer surface
Paddle Range:
110 lbs to 315 lbs
Beginner to Advanced
Surf Range:
225 lbs to 300 lbs
Intermediate to Advanced
Related posts